| | |
| --- | --- |
| | The Words of the Matbagan Family |
La Union-Tagudin conducts 2-day SHSP seminar
Heidi Matbagan and Felix and Augie Sanchez
April 13, 2008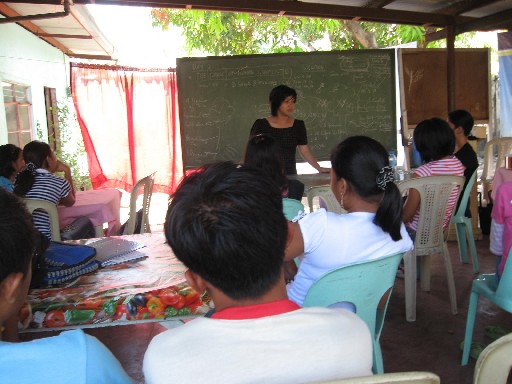 Bauang, La Union- Amidst his hectic schedules, itenirary and several back-and-forth reporting to UM HQ for some special projects, Peace Ambassador Felix Sanchez who is based in La Union managed to give a time to talk to the school teachers in his locality to invite graduating students from Baccuit National High School at Bauang, La Union.
Last April 12 to 13, 2008 a two-day SHSP (Self-help Scholarship Program) Seminar-lecture was given to 18 newly graduate high school students. Among them were 13 top graduates from Baccuit National High School; two from Abra and three newly high school graduates from Baccuit Norte of Bauang, La Union chosen from the tribe/clan of the Cadano's. The said seminar was held at Tagudin Learning Center hosted by Tagudin Center Leader, Mr. and Mrs. Sergio and Alma Degamo. Mrs. Alma Pang-oden Degamo serves as the main lecturer and was assisted by Engr. Rosendo "Khing" Anin Jr., former center leader of Abra. Mr. Sergio Degamo acted as coordinator and cook at the same time during the 2-day seminar.
Peace Ambassador Felix Sanchez together with his equally energetic wife Augie Sanchez of the Fil Vision Trading and the Greater Good Construction firm sponsored the said seminar from transportation to their meals and food needs. Tagudin Center offered the venue with the services of their energetic couple-leader Serge and Alma Degamo.
All student-participants were very inspired and are aspiring to attend higher lectures (21 days workshop) in the near future.(with reports and photos from Heidi Matbagan and Felix and Augie Sanchez)