| | |
| --- | --- |
| | The Words of the Malya Family |
YFWP-Tanzania Offers a Vision for African Young Leadership
Switbert Malya
October 2008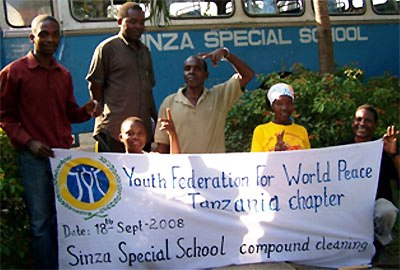 YFWP volunteers at Sinza Special School in Kijitinyama Dar es Salaam, Tanzania.
Tanzania is a land of contrasts. Home of two of nature's grandest spectacles, the migrating wildebeests of the Serengeti Plain and glacier-capped Mount Kilimanjaro, Tanzania is also the most rapidly growing and urbanizing population in Africa. Of the east African country's 35 million people, young people make up almost two thirds of the population.
Since gaining political independence from Great Britain in 1962, Tanzania has followed an ideology of Pan African socialism, or Ujamaa, which nationalized most economic activities and left few opportunities for the private sector or civil society organizations.
From the 1990s, the persistence of underdevelopment and worsening health problems, notably HIV/AIDS, have spurred reforms and enabled a much more engaged role for nongovernmental organizations (NGOs) to provide needed services in Tanzania.
Restoring the family
Unlike many service-based NGOs, Youth Federation for World Peace-Tanzania is looking comprehensively at the challenges facing the society, and specifically its youth. Combining efforts to meet critical needs with a long-term vision to raise new leadership equipped with values, YFWP-Tanzania is emphasizing spiritual and moral principles that are often overlooked in the urgency to meet short-term needs.
One of the chronic problems facing much of sub-Saharan Africa, including Tanzania, is the disintegration of the traditional family, the orphaning of children due to the scourge of HIV/AIDS, and, particularly in neighboring countries, the recruitment of displaced youth into violent paramilitary gangs.
In September 2008 YFWP sponsored an education program at Sinza Special School in Kijitinyama Dar es Salaam, the same school visited by pop singer Michael Jackson, who donated a school bus as well as money to help complete the school building. The program reaffirmed the family as the first and most significant socializing influence on our children, emphasized the need for community awareness and living for the sake of others, and explained the importance of transcending barriers of ethnicity and religion to create an environment of peace as a precondition for economic progress.
Following the training program, YFWP volunteers cleaned the school compound, cutting grasses and pruning the boundary fence. Later, volunteers cut trees and bushes at a farm to plant cassava, sweet potatoes, and maize to raise funds to support local activities.
"This is just the beginning," says YFWP-Tanzania President Switbert Malya. "There are many approaches to peace that can engage youth. Sports is excellent way, and I plan to start a league of 16 teams -- provide education in the morning and play football in the evening."
YFWP-Tanzania also commissioned one local leader as a Young Ambassador for Peace, an expanding worldwide network of young leaders from all sectors of society who are claiming a role in building a culture of peace in the twenty-first century. For more information on Tanzania's leadership and peace-building projects, contact YFWP-Tanzania at BOX 33359, Dar-Es-Salaam, Tanzania.