| | |
| --- | --- |
| | The Words of the Korda Family |
M.Div. Student Gives Comfort, Empathy As Hospital Chaplain
Kate Korda
September 2008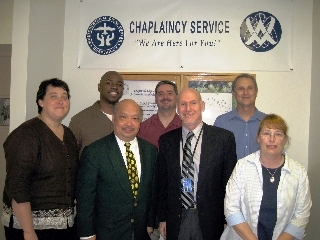 Kate (left) with her fellow chaplaincy interns and supervisor, David Elseroad (front, second from right)
I spent 10 weeks of my vacation in Westchester Medical Center (WMC) attending a Summer Intensive program called Clinical Pastoral Education (CPE). I was part of a diverse group of Chaplaincy interns composed of Catholic Priests, Eucharistic Ministers, Protestant Pastors, an Imam and a Rabbi.
WMC is a huge facility, and I was assigned to be a chaplain at the Maternity Ward where I witnessed complex situations connected to that side of women's life. I met mothers at risk, mothers in grief over their baby's death, as well as those who just came to give birth, celebrate the miracle of new life with their family in deep joy and happiness, and leave the hospital in barely two or three days. I came to admire more and more the courage, strength, sacrifice and love for the little being inside of them, and the strong faith of many of them in spite of anxiety, worries or pain.
Although the majority of patients were Christian, I met Muslim, Jewish and Hindu patients too.
When I worked as an on-call chaplain I witnessed many events people do not want to think about -- patients preparing for an operation; accidents; suicide; someone dying alone; and the pain of those who were there on the side of the bed of a dying friend or relative.
Sometimes people didn't want anyone with them at those intimate and difficult moments, but other times they requested a particular religious figure or appreciated a chaplain's prayer and presence.
I could see that in spite of all technology, advanced medical knowledge and efforts of the staff, there is little control over life and death matters. There were situations that seem light, that could turn into a sudden tragedy, while at other times, those who had small chances to live would be miraculously healed. It was easy to turn to God in deep prayer, as I encountered many diverse situations. I saw families and friends overcoming painful situations with their love; the loneliness of those who lacked visits; amazing healings, and those receiving the worst diagnosis one can hear. All summer there were two ever present events with us -- birth and death.
There is tremendous emphasis on ministry of presence in CPE. As I learned to listen and to explore people's feelings, I could discover and understand myself more deeply.
I was part of a group of six summer interns -- mostly Christians from different denominations. We learned more about each other in ten weeks, with the help of our supervisor, sharing our good and bad times, challenging each other to change, and helping each other to grow as a chaplain and a person. Although many patients may seem to be alone in their suffering, we were there to offer comfort and loving concern.
A hospital is often a place we most likely dread going to, but it can also be a place of faith, love and hope.
Maybe the desperate prayer or sharing with someone might not change the outcome, maybe we get something different or opposite from what we asked for, but who knows -- maybe someone's presence, empathy, compassion or prayer might bring relief or strength to fight the sickness, pain or grief.
Ms. Korda, from Poland, is a second year student at the Unification Theological Seminary where she is studying for her Master degree of Divinity.