| | |
| --- | --- |
| | The Words of the Konno Family |
True Father is spiritually connecting with readers through his autobiography
Ruth-Eva Konno
August 30, 2010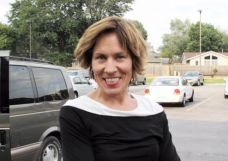 When I first heard about True Father's published autobiography that is already a bestseller in Korea and Japan, I was looking forward to reading and sharing the English version. I want it to be a bestseller in America, too. When I finally started to reading the English version my strong feeling was how True Father is spiritually connecting with the reader through this book. To me this book is a very powerful instrument of witnessing to myself and others.
A couple of months ago Bishop Ki Hoon Kim gave us the message from True Father to distribute 430 copies of this Autobiography, and I thought that this is not only doable, it's easy! At that time a copy sold for $20.00, so I decided to loan my copy to all my friends, and asked them to read it and return it to me after one week. Each time I loaned the book I told that friend "my son read it overnight, and you have a whole week!" To my surprise this method seemed to work. And then thanks to the generous promotion of the Washington Times, we were able to buy a copy for only $5.00, and that is when I started to buy box after box.
School vacation was about to begin, and I wanted all the teachers, principals, etc of all the schools that my children are attending to read the book over the summer. I made sure that each school employee would take a Biography home. Summer is almost over and I can't wait for their feedback! Since I was in the momentum I wanted to pass out books to all my neighbor friends. Most of them were of course very happy to receive a freebee, but I made sure and wanted their commitment and promise that they would really read it from cover to cover.
This autobiography is such a great witnessing tool. I always have True Father's Biography in my car, ready to give it to a prepared person. Thank God, I am able to make so many new friends this way. Now I am busy getting back with all the readers. The response of course could always be better. But I feel that having fulfilled the goal of giving out 430 copies, it is a great condition for much more Blessings to come, for myself and those who received the books.