| | |
| --- | --- |
| | The Words of the Kato Family |
Ambassadors in Japan and Japanese Diplomats for Global Peace
Shigenari Kato
September 6, 2007
Director of Public Relations, UPF-Japan
Tokyo, Japan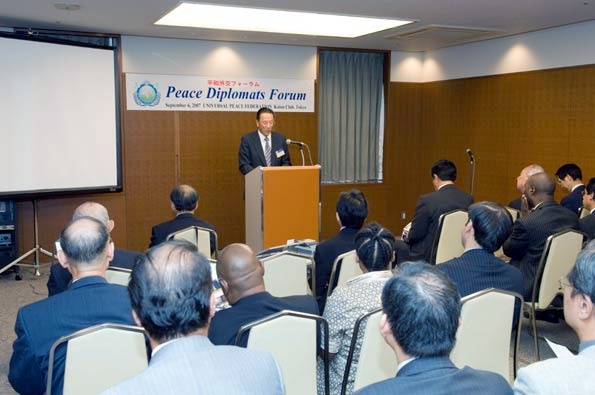 UPF-Japan organized the "Peace Diplomats Forum" on September 6th in Tokyo. 50 diplomats participated, including Ambassadors in Japan, former Japanese Ambassadors and Parliament members.
"Peace Diplomats Forum will offer a good opportunity for you to share needs and vision of your country, as well as to exchange information with diplomats and leaders of Japan," Mr. Katsumi Ohtsuka, Chairperson of UPF-Japan explained about the Forum to the participants in his Welcoming Remark.
An experienced former Japanese Ambassador gave the speech relating to the "Peace Building" raised the interest to the participants. The speaker explained the "preventive diplomacy," and from that perspective he mentioned that activities of UPF are very relevant to bring about world of lasting peace.
After the speech, luncheon meeting was held, and each participants presented the vision to the peace.
Domingos Sarmento ALVES, Ambassador Extraordinary and Plenipotentiary of Embassy of the Democratic Republic of Timor-Leste shared his vision to peace. He said, "Peace is coming something from inside. Peace starts from one people." And he emphasized to share love each other to make peace.
H. E. Mr. Hassan SOROOSH, Charge d' Affarires ad interim Embassy of the Islamic Republic of Afghanistan talked how Afghanistan people have suffered for two decades by invasion and destruction, and they know importance of peace and security. He emphasized, "We are crucial to shape the culture of peace based on dialogue not just among governments but also with civil society. I wish all diplomats use their position to have shape the culture of peace and to realize the peace to whole world."
Mr. Mithat PASIC, Counselor of Embassy of Bosnia and Herzegovina said, "all conflict is caused to people's greed. All other reason, different color of the skin, different religions are used to just excuse. So, I would like to support the proposal of UPF having Religious Council in UN."
Through the Forum, the participants studied what UPF is doing. The Forum inspired them to swear that they work for peace through developing the relationship between their nation and UPF as Ambassador for Peace. Most of the diplomats have attended ILC recently held in Honolulu and Seoul.