| | |
| --- | --- |
| | The Words of the Javanasundara Family |
New Holy Wine Release for 2009
Charles Kamins
August 28, 2009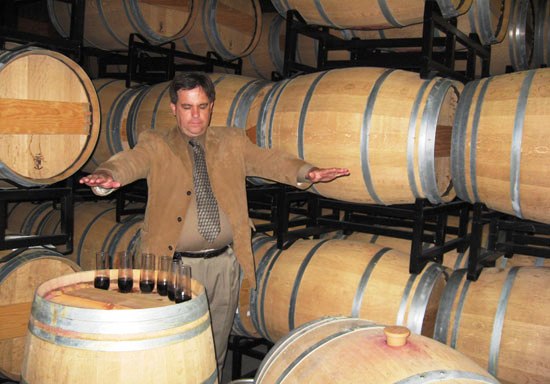 District 11 Director Rev. Kevin Thompson performs the holy wine multiplication ceremony in Napa on Friday.
August 28, 2009, NAPA, CA -- Rev. Kevin Thompson was kind enough to travel all the way to Napa to officiate at the blessing ceremony for our 2nd release of holy wine. This year's wine is a Cabernet Sauvignon blend that includes, we're proud to say, fruit from our own vineyard.
During last year's holiday season we received quite a few requests for gift bottles in full 750 ml format. These bottles will make an ideal gift for friends and family and those who appreciate fine wines will be wonderfully impressed by the quality and craftsmanship of this 2007 vintage Cabernet. Pour a glass and out comes a bouquet of roses.
Rev. Thompson and I had a chance to chat a bit about our experiences sharing holy wine with friends and family. He related his experience in sharing it with his brothers and sisters back in England. Growing up, his siblings were mostly agnostic, and he expected them, at best, to politely drink the wine without much comment. As it happened, once everyone drank, the conversation in the entire room changed to spiritual experiences they had, and for the first time, Kevin's own family turned to him for spiritual guidance. He was rather astonished at this outcome.