| | |
| --- | --- |
| | The Words of the Ito Family |
Legacy of Peace Ceremony in the Marshall Islands
Kenichi Ito
July 31, 2010
UPF-Marshall Islands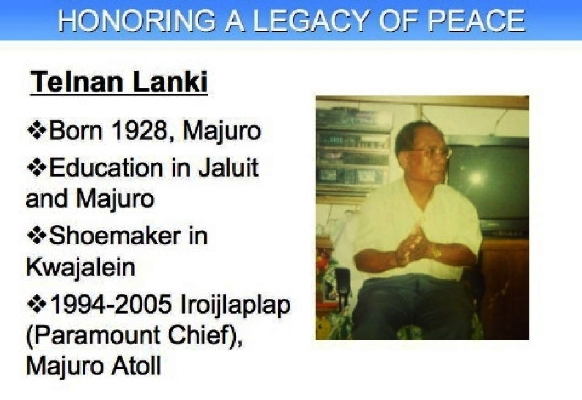 Majuro, Marshall Islands -- We held a Legacy of Peace Celebration on July 31 in the event hall of the Marshall Islands Resort Hotel. Although events were taking place at churches on the same day, key dignitaries were present. Those present at this meaningful event included Former President H.E. Kessai H. Note, Former Bikini Atoll Mayor Hon. Eldon Note, Secretary of the Ministry of Transportation and Communications Mr. Phil Philippo, the Director of the Marshall Islands Council of NGOs Mrs. Bonny Taggart, and the families of the Legacy of Peace honorees.
Honorees included Ambassadors for Peace who were political and religious leaders:
H.E. Amata Kabua, founding President (serving five terms as President), Traditional Paramount Chief
Hon. Tipne Philippo, Senator of Lae Atoll, and Pastor of a Congregation Church
Hon. Toej Albetter, Woman Paramount Chief in Majuro
Hon. Jamore Albetter, Senator of during the Trust Territories Era
Hon. Telnan Lanki, Paramount Chief in Majuro
Hon. Riley Albertter, Mayor of Majuro
Hon. Abner Lemae, Mayor of Jaluit Atoll and Member of the first RMI Constitutional Convention
Mr. Kosang Mizutani, President of the Japanese Marshallese Association, Medical professional
Former President Note gave moving accounts about the late founding President Amata Kabua. Then, Mr. Phil Philippo, Secretary of the Ministry of Transportation and Communications, spoke intimately about his parents, the late Hon. Rev. Tipne Philippo and Mrs. Neimon Philippo.
In preparation for the event, we visited the homes of relatives of each of the honorees to explain the Memorial Festival of Ascension and Unity as a way to celebrate the legacy of individuals who lived with distinction and honor and for the sake of others. Life is a journey, and the ceremony celebrates their transition to another, higher dimension: the spiritual world.