| | | | |
| --- | --- | --- | --- |
| | The Words of the Ito Family | | |
Peace Tour Marshall Islands
Kenichi Ito
December 2, 2006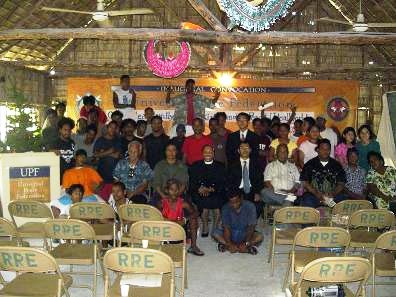 Bishop Dr. Shirley Wright Cotton is a brilliant open-minded, nice elegant lady pastor who loves and respects the UPF vision. When she arrived in Majuro from Taiwan after a long flight on the evening of November 29, we shared many things and made plans for the main event.
The following day, December 1st, was coincidentally the 149th anniversary of the Marshallese Gospel Day, a national holiday. It commemorates the arrival, 149 years ago, of the Protestant missionaries from Massachusetts, USA, to Ebon Atoll of the Marshall Islands, bringing the gospel for the first time in the history of this nation. So it was a very meaningful and amazing occasion!
The main event was held at the Event Hall of the RRE Hotel in Majuro at noon on Saturday, December 2. The number of participants was about 80; among them were a number of dignitaries and many young people through our CARP connection. The event had been advertised on national radio station beforehand with the cooperation of an Ambassador for Peace who is the director of national broadcasting.
The Keynote Address was delivered by Bishop Dr. Shirley W. Cotton. She began by singing a song with the audience to open this speech. She read the speech in a dynamic clear way so that the audience could easily access understand it. In general, the atmosphere was friendly and family like.
Apart from this main event, Dr. Cotton joined us on several visits to RMI dignitaries such as President and Mrs. Note, whom we met coincidentally at a restaurant, and Mr. Capelle, the Minister of Justice That evening we had a victory celebration with Ambassadors for Peace as well as a farewell dinner for Dr. Cotton. Finally, we visited a beautiful sandy beach at the end of Majuro Atoll and had a very good time. Dr. Cotton collected different shapes of coral stones at the beach, just as Mother Moon did when she visited RMI six years ago.


Download entire page and pages related to it in ZIP format


Table of Contents


Information


Tparents Home