| | | | |
| --- | --- | --- | --- |
| | The Words of the Iseda Family | | |
Reflection Of Peace Message Readings
Heidi Iseda
March 27, 2007
Los Angeles, CA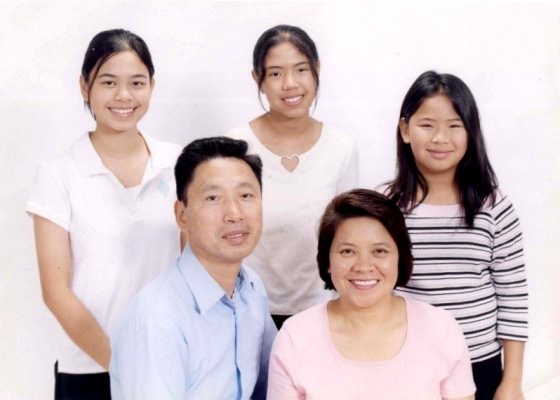 Editor's Note: Sister Heidi Iseda is one of the early members who joined the American church and one of the pioneer graduates at UTS, Barrytown, NY. She is originally from Pangasinan. She is one of the few donors in the Tanay Development Project too.
I have been working as a substitute teacher for different school districts for many years, and for almost two years now at the Los Angeles Unified School District. Because of the nature of my work, I have an opportunity to meet many teachers and students of different schools everyday.
Last December, during the 5th World Speaking Tour, I took the opportunity to read the speeches to the classes I was subbing for. I started with the high school students whom I've worked with before, and who somehow knew and trusted me. After we were done with class work, I told the students that I have a speech I'm giving to other audiences as an Ambassador for Peace. I explained to them about the need to work for peace and how Rev. Moon founded the Universal Peace Federation. I then read different sections of the peace message on: God's purpose of Creation, Absolute Sexual Morality, True Love and the Spirit world and the Ideal Family as the basis for the Kingdom of Heaven. Most of the kids were very inspired and asked me many questions like: "Why is it difficult to find True Love?", "Why are you doing this?", "Can you explain further what "Absolute sexual morality mean? Some kids' comments are: "I like how you talked about the family and how important the family is". etc. Some kids request that I read more. (I ask them at the beginning if I could have 10 minutes to do my speech, and some of them said, "Take 40!" All the kids that I've read to were very happy to see me again when they meet me at the school later on. I felt happy too that somehow, these kids are getting pure and principled ideas especially relating to sexuality as that is one of the biggest problem (sexual immorality) they are facing today.
A few days ago, I decided to start giving the speeches again to the classes I sub for and here is my testimony: I was requested to sub for a Life Science class at El Sereno Middle School in Los Angeles for two consecutive days. Yesterday, (March 8th), we finished our classwork ahead of time, so I decided, as I have done the last 5th World Speaking Tour, to give Father's speech to the classes I was subbing for. I had a whole bunch of 7th graders, and the first period class was quite decent (not too rowdy), and we finished our assigned work early, so I told everyone that I'm going to practice a speech I'm giving to an audience in the near future. I also requested that they give me their full attention for a few minutes. I told them I was an Ambassador for Peace, and that this speech I was about to read was written by Rev. Moon, and it's being read all over the world. They asked me why I was doing it, to which I replied, "We so badly need this to bring peace in our communities and the world." Then, I asked them, "Do you have peace in Los Angeles?" They all said, "NO."
I brought my tape recorder with me, and told them, I really wanted to improve on my speaking ability. I also explained that they may have different beliefs than what I'm about to share, but they might learn something new also. They all agreed to let me read to them. I like it because, as I found out previously, this is a good way to keep the kids silent even for a short time. (Middle schoolers are such a noisy bunch.) I read to five different classes where some kids listened intently, and others didn't pay too much attention. After the first reading, I asked the kids if they had any questions or comments, and one kid raised his hand and said, "I learned, as you were saying that the highest level of love is the love between you and God, and the center of all relationships is the parent-child relationship." Then I asked, "Why is it the center?" He couldn't answer it, so I told him, "It's because no matter what, a parent's love does not change. I was quite surprised how much these kids picked up from the speech. Later on, I thought that because they are still young, their original minds are still stronger than their evil minds. I just feel so saddened that majority of the kids these days are being influenced to follow the evil culture of this fallen world.
There are many other remarks from other students that made it really worth it to read the speech to them, and to hang in there with them. ( It's very hard for me these days to lead a classroom full of middle schoolers, as they have too much energy and are usually very loud. I would rather teach the high schoolers.) I saw some of them at another class I covered this morning and they were very happy to see me. When I met my class again this morning, one of the girls said, "Oh, are you going to read to us again today?" (Requesting that I please read again.) I don't know why, but I said, "No, we don't have enough time today." (Later on I realized I should have. Sorry.)
All in all, I was able to read to five (5) classes with about 24 kids in attendance each. I have a list of their names (except for one class, I covered today.) I will send you the list of names that I have if you need. Today, I go a request to sub at Roosevelt High School. I've been there before, and I remember the last time I was there, I met a wonderful young man named David. We talked about the state of our society and the challenges young people go through these days. I realized this young man has so much potential to help reach out to young people, so I told him I would like to nominate him as an Ambassador for Peace. Somehow today, he showed up in one of the class periods, and he and I were happy to see each other. Instead of reading a book for his silent reading time, the assistant teacher allowed me to have him read the Peace Message number 10. So I sat down with him and he read it. I also gave him the Ambassador for Peace Outline of Universal Principles. He read them and agreed to be an Ambassador for Peace and signed up. I will visit his church on Sunday and talk to his pastor and speak at their Sunday School.
After all this occurred, he related to me something that just happened to him. He said he was on his way to his Saturday school early in the morning one day, he met a young man whom he has never seen before. This young man asked him if he was on his way to school, and asked if he wanted some company. David replied, "Sure, we could walk to school together." When they were about a block away from school, David looked the other way to check if it was safe to cross, but when he turned to speak to the kid, he was gone. From that day on, he never saw him again. He told me he thought it was an angel protecting him and making sure he was safe. I thought about an angel too, but then I thought about Heung Jin Nim or someone he has sent to accompany David.
Then David shared with me a poem he had written before. It goes.....
I Believe in Angels
I believe in angels,
That kind that heaven sends.
I'm surrounded by angels,
But I call them friends.
There's nothing as nice as someone
who shares your laughter, your secrets and cares.
Someone who through the good times and tears,
someone who stays by your side through the years.
I believe the spiritual world is guiding my path to meet the people prepared to receive the message. They are out there waiting for us to speak to them. God bless all of them.
Heidi


Download entire page and pages related to it in ZIP format


Table of Contents


Information


Tparents Home