| | |
| --- | --- |
| | The Words of the Ho Family |
Hawaii Leadership Conference - "Leadership for the Emerging Pacific Rim Era"
Ernie Ho
January 17, 2008
Outrigger Keauhou Beach Resort Hotel
Kailua-Kona, Hawaii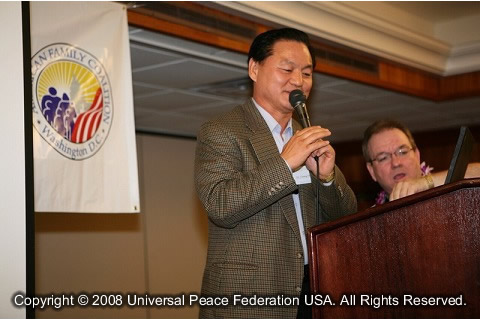 On the inspiration of True Parents and the strong encouragement and direction of Dr. Yang, we decided to do a Hawaii Leadership Conference in just four days to take place on the providentially significant 17th day of the month in Kailua-Kona, Hawaii, a providentially significant land. There were approximately 170 participants, consisting of church leaders, realtors, former city councilmen, doctors, financial advisors, and missionary guests. Also participating as staff and attendees were students from the High School of the Pacific (school created by True Parents to educate young leaders of the Pacific Islands), and of course our devoted local FFWPU members. Mr. Joe Tully and local Kona Pastor Chuck Frumin led the way for the preparation of the event.
The program opened with an invocation in the native Hawaiian language by Pastor Norman Kea'naina, followed by his church choir singing Hawaiian melodies. During dinner we watched the video "Man of Peace." We also watched the new introductory video about the High School of the Pacific, illuminating many about the activities and purpose of the school. Mrs. Carol Kea'naina read a summary of True Parents' Peace Message, followed by our visiting pastor, Rev. Jesse Edwards, speaking enthusiastically about the core values of ACLC. During the intermission many were moved spiritually by the shakuhachi flute melodies played by a guest. Later on in the program, a Japanese sister performed a dance she had created based on a dream.
Rev. Philip Schanker then gave a presentation entitled "Vision for the Movement," a whole panorama of the Divine principle in thirty minutes, which inspired many. Dr. Yang followed by giving a powerful talk on "Who is Rev Moon?" describing True Father as a champion in eight different ways. The program concluded with a brief talk by Joe Tully, "Core Principles of Ambassadors for Peace," followed by the presentation of certificates for eight newly appointed Ambassadors for Peace. Rev. Kea'naina and his choir closed the program with all of us holding hands to the music of "Hawaii Aloha" and a prayer in the Hawaiian language.