| | |
| --- | --- |
| | The Words of the Hickey Family |
The Long Way Around Was the Shortest Way Home
Douglas Burton
May 23, 2009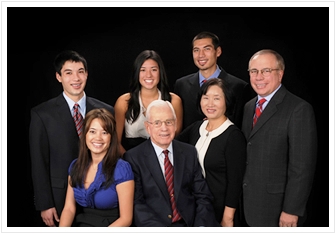 Author Patrick Hickey (right) together with his family.
Patrick Hickey is well-known in parts of Nevada as a respected policy analyst at Nevada Journal and as a radio news reporter who also served a term as a state legislator in the 1997 session. His name is known to Unification Church members, on the other hand, as that of a charismatic state leader and an eloquent lecturer whose videotaped lectures on the Bible were delivered to thousands of clergy in 1984 - 1985.
For nearly 20 years, Pat has been only sporadically involved in the church while he raised a family of four children, built a home-based business near Reno and generally made a life for himself outside of the movement. Readers of his memoir, Tahoe Boy, will discover that the life he built was a good one. The 70 short chapters in this book will bemuse Unificationists but also likely will entertain those who know little of his church simply because, like Forrest Gump, Pat seems to have traveled the length and width of America and has come back with personal stories related to many big issues of the 1960s and 1970s, including the Viet Nam War, the hippie culture, sexual liberation, environmentalism, cross burnings, new religions, the end of the Cold War, and finding his own "Jenny," one Myung Hee Shin from Korea, the love of his life.
Like Gump, he hobnobbed with the meek and mild (homeless squatters) as well as with the high and mighty (Ronald and Nancy Reagan). Through it all, Pat has grappled with the big questions in life with a sense of humor and thoughtful detachment which makes his story partly a reflection on the experience of his generation.
He is the great-grandson of Irish immigrants who staked their claims in Nevada in the 1870s, when it was a new state. His grandfather and father sold ice and fuel oil to neighbors on the shores of storied Lake Tahoe, and Pat figured he would take over the family business one day. Growing up in an idyllic small town, he was an adored son of hard-working, patriotic, Roman Catholic parents. His father (still going strong at 96) coached little league while his mother -- "like God, she was always around" -- worked at the town's high-fashion department store. Pat was proud of his father's World War II combat credentials and was loathe to embarrass Dad by refusing the draft in the middle of Viet Nam, yet that is what he did.
But he didn't hide out in Canada or go underground. Pat showed up at the induction center and simply refused to step forward when ordered. He fully expected to be prosecuted and imprisoned but never was, possibly due to the huge backlog of such cases. That decision was a defining moment, and it prefigured other acts of courage, including the joining of a new religious movement -- the Unification Church -- which meant being pilloried as a cultist for decades. He was opposed by his parents, of course, but Pat recalls the episode charitably:
On the way to Heaven, I put my parents through hell. In the span of just three years... I'd dropped out of college, refused induction into the Army, and traipsed through Canada in a hippie van headed nowhere. Culminating my departure from the mainstream was the joining of a new religious movement that most would soon consider a cult. It was a lot for my middle-of-the-road American folks to digest. Even though I wouldn't change what happened, it took decades and having my own children to fully appreciate what I put them through as parents.
In Pat's telling, working in the Unification Church sounds like fun, or at least like a series of adventures. His story of joining the church is replete with dreams, visions, and epiphanies. His picture-perfect arranged marriage to Myung-Hee is the onset of a lifelong romance. Pat gives tribute to her as a dedicated mother and as business partner in the home-painting business they run, but, like everyone in the book, she is the stuff of anecdote: "I met her for the first time on top of a garbage heap in the sub-basement of the Boston Sheraton," he writes, explaining how he found his future bride's photo in a trash heap in 1978.
Tahoe Boy is not an uncritical remembrance of the church. In some passages he sounds as if he has evolved beyond it: "The vehicle of one's faith is only the means to an end. Reaching the end in God meant the end of religion for me, or at least the need for its rituals." Elsewhere, his position is ambiguous: "For me, the black stretch limo of Catholicism brought me only so far. Unificationism picked me up hitch-hiking in one of those innovative Asian models that captivated the market in the 1970s. How far it will take me depends on how long I stay in it."
If the book's subtitle invokes the idea of a journey, its final chapters are a proclamation of arrival. When he relocated his family to Reno in 1991, he began to recover friends, family, and a sense of connectedness that had been pushed to the side during his spiritual course of wandering in the wilderness. To his surprise and delight, his church affiliation was never an issue when he ran for office and won. His home-based business prospered to the extent that he could build a cabin on the land that his grandfather had lost decades earlier. Like desert flowers after a rain, his children bloomed as students and athletes. "There is a Tahoe in all of us," he observes, suggesting that happiness accrues to one who is rooted over time in a place, a family, a community, and a landscape.
In some passages, Pat is novelistic, almost simultaneously channeling John Denver and Lao Tzu:
[Tahoe], your clear waters never reach the Pacific. They have drawn me back like a landlocked Kokanee looking for the fresh tributary of youth to deposit my heritage. The warmer surface water, constantly mixing with the cold aqua below, prevents you from freezing. So too will my thoughts and memories always be churning like your blue legacy still running through my veins.
However it is read, Tahoe Boy is a path-breaking work, a beguiling story that stands in high contrast with the "buyers' remorse" tales of some ex-Unification Church members. Here, at long last, a church member has published his life experience in the terms that the world beyond the church can grasp and likely will love, and he has reminded his fellow church members, some of whom may have spent more years on the road than they would like to admit, that home -- and hometown -- is where the heart is.
Contributed by Douglas Burton