| | | | |
| --- | --- | --- | --- |
| | The Words of the Estiandan Family | | |

SVP Aya Goto visited Albay with Hope
Sharleen I. Estiandan
February 12, 2007
W-CARP Philippines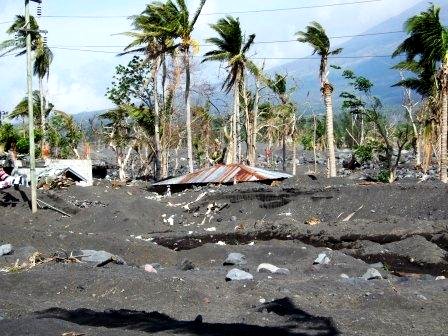 Daraga City under dark sand and stones.
During the recent visit of Senior Vice President (SVP) of W-CARP, Aya Goto in the country, he visited Albay on February 1, 2007. Albay was severely damaged by Typhoon Durian last year. The purpose of the visit is to understand and know the scope and extent of conducting a disaster relief operation for the victims of Typhoon Reming in Albay and at the same time how to make the project more meaningful and effective not as a one time service activity but connecting and become one of the key organizations to restore Albay particularly help the victims recover from their fate. Albay and its surrounding damaged municipalities is now one of the nation's major concerns. It was said that it would take about 15 years to fully restore the region.
SVP Goto was accompanied by W-CARP Philippines Secretary General Sharleen Estiandan and guided by Southern Luzon Executive Director Alex Basabe went around visiting two of the most damaged cities namely Legazpi and Daraga.
Background
As a background to understand the situation, Typhoon Durian (local name Reming) made landfall in the Philippines on Nov. 30, 2006 with sustained winds of 115 mph near the center and gusts of up to 140 mph, the fourth deadly typhoon to hit Philippines in four months, unleashed floodwaters of 10 feet in some areas. A final report issued by Albay Provincial Disaster Coordinating Council last January 16, 2007 indicated 604 people perished, 419 people still missing, and 200,000 damaged homes among which 99,968 were substantially destroyed. All told more than 1 million people have been affected. Heavy rains continued that caused Mayon mudflows burying 8 villages.
"The village was devastated, wiped out by the mud flow," Legazpi Mayor Noel Rosal said, adding the mudflows hit at around 3 p.m. Thursday and ended three hours later. He added that some victims had their clothes ripped off as they were swept away by the mudslide. He calls the place now as a black desert, referring to the color of the volcanic debris.
The mudflows were formed after rains washed down sediments and boulders deposited from previous eruptions on the Mayon slopes, said Renato Solidum, Director of the Philippine Institute of Volcanology and Seismology (Phivolcs). Series of typhoons severely affected Philippines over the past four months that have caused extensive damage over a widespread geographical area including at least 20 provinces, of which five have been affected by more than one typhoon. The storm wreaked havoc in Catanduanes, Sorsogon, Albay, Mindoro Oriental and Occidental, parts of Camarines Norte and Sur, Marinduque, Batangas, Quezon and Laguna. Fortunately, it diverted from its path and missed metro Manila by some 50 miles.
First to get the full view of damaged areas surrounding Mayon Volcano one can climb the small hill in Legazpi called Linyon Hills. From there one can see the wide area damaged by the typhoon namely Guinobatan, Camalig, Legazpi, Daraga having a total of 18 evacuation centers or transitional centers.
Evacuation Centers Visited
There were three evacuation centers that the group was able to visit. First they visited Busay, Daraga, the town with the most number of casualties and missing. Evacuees were relocated at Busay Elementary School accommodating 276 families, 1,380 individuals. In Bagong Bayan, Daraga, victims were relocated at Binitayan Elementary School with 245 families, 1,470 individuals and lastly, at Gawad Kalinga Ibalong Village in Taysan, Legazpi with 410 families, 2,460 individuals from Padang Sto. Domingo, Legazpi City.
Each of these centers is being managed by dedicated volunteers from the Department of Social Welfare and Development (DSWD) together with the school principal. Up until now these evacuation centers are relying on relief donations coming mostly from NGOs local and abroad.
Victims are mostly in need of food and drinking water, yet basic household needs would also be very helpful, for example, sleeping mats, blankets, kitchen utensils, etc. On the other hand, many of them are still in the state of shock seeing their relatives helplessly washed away by the flood. Some are in need of medicines to heal their wounds and other common illnesses such as colds, cough, and flu.
Orphans were adopted by NGOs like the HOPE Foundation and the rest were brought to the orphanages in Manila.
There are still evacuees taken in other nearby provinces that are not being reached out by NGOs since it is now known to them.
Proposed Project
After all the visitation was done, a meeting was called by SVP Goto to have a brainstorming on how to start a project for the typhoon victims. Initial outcome from this is to conduct a project to be titled as Albay B.K.K.B. Project (Bayanihang Kabataan Para sa Kaunlaran ng Bayan) in English "Youth Heroism for the Progress of the Nation. This project is not only to give relief goods to the victims but also by raising youth leaders take more active role in the long-term recovery of the region by providing them cognitive and experiential learning. Target participants are volunteers coming from key organizations in the region spearheaded by 34 W-CARP Service Peace Awardees from 2005-2006 to spearhead the operations. Preparations on logistics are in progress, which organizations could participate and its target date at the latest is the first week of March.
W-CARP Philippines is open for donations and welcomes volunteers to help rebuild Albay continuously. You may contact the Project Center at philippines@worldcarp.org. Let us help rebuild Albay -- now seems black desert become a fertile soil full of hope after the great flood.


Download entire page and pages related to it in ZIP format


Table of Contents


Information


Tparents Home