| | |
| --- | --- |
| | The Words of the Dueck Family |
Report from four Paraguayan supporters of Hyun Jin Moon on the visit of In Jin Moon
Jimmy Dueck, Felipe Paredes, Rosanne Schiefelbein de Paredes, and Veronica Dueck de Blanco
August 25, 2010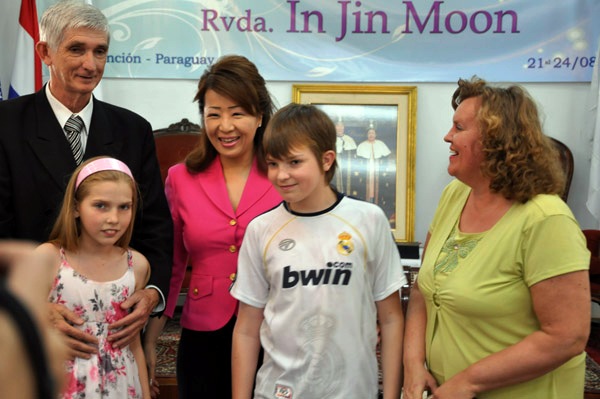 In Jin Nim visits Paraguay
Paraguay had the honor of welcoming a True Daughter. Regrettably, her intentions of visiting this country didn't seem very genuine. This report is for you to have an understanding of what really took place in Paraguay, because surely her entourage will release its version of the events that don't tell the entire story. Probably you will only hear glorified versions of the news.
Why Paraguay?
Perhaps more than any other country in Latin America, Paraguay received the love and dedication of True Parents. Without a doubt the foundation in Paraguay was decaying before Hyun Jin Nim's first visit. But after his first visit in February of 2008, the work that he did turned the tables on the situation and he did not only save True Parents' foundation but he developed and expanded upon it. Thanks to the sacrifice of True Parents and Hyun Jin Nim's work, today we have a nation in which the highest level contacts are working with us and each day they are getting closer and closer to True Parents. This work was being carried on through several companies and the Global Peace Foundation before all the internal conflicts emerged in our church. To destroy such a foundation is not the way to resolve the problems. Also, through the GPF we now have a massive base of support which is an unprecedented thing in our movement. Brothers and sisters, let's allow this excellent work to continue so that it may be offered up to True Parents.
Nice first days
In Jin Nim and her group arrived in the country along with continental director [Dong Mo] Shin and other individuals (Costa Rican lawyer Francisco Saborio who claims to represent the Mission Foundation, some accountants from the Korean Foundation, and Brazilian church president Simão). They showed the members the nicest and most beautiful side they could show. They spoke about True Parents to the members. Sang songs for the members with their band. They did a ceremony for Father's autobiography and gave away copies of the book with In Jin Nim's signature. It was all very nice. There were no negative words. The members were all happy taking pictures with In Jin Nim. Even during Hoon Dok Hae on the first day everything was done in such a way to win the hearts of the families. And then they showed their other side…
General Assembly (= the real purpose of the visit)
We have already seen this pattern in Brazil. On the third day, starting from Hoon Dok Hae, the entire happy, divine, and beautiful show became into a type of judgment against Hyun Jin Nim and the people working with him. In Jin Nim demonstrated her resentment towards her younger brother and it was obvious that she came to Paraguay with the intention of tearing down what he had created. Immediately after that, they called for a general assembly in the church in which Mr. Aristides Rondan, Evaristo Fernandez, and others began the attacks by saying that any member who doesn't sign the resolution to revoke the transference of lands -- which were done more than two years ago with companies that were managed by Hyun Jin Nim -- is against True Parents.
Perhaps it would be fine if they came to Paraguay with a realistic and concrete plan on how to take forward the providence in this country (and continent) to accomplish the goal of CIG 2013. But to come to Paraguay all the way from the US just to get the members to sign a document against Hyun Jin Nim… that is just not right. There were accusations that the people working in companies are doing it only for the money; that the people working in companies are Goliath and those in the church are David… etc.
When they say that anyone working in the company 'Victoria' is working against True Parents, they are insulting the intelligence of the members… because that means that all members working in True World Group, News World, and other providential entities are also against True Parents. But nobody doubts the loyalty of these members -- which include American, Korean, and Japanese members -- towards True Parents.
In the end, the "real purpose" of the visit was to have a general assembly of the church thinking that they would be able to stop Hyun Jin Nim's work. Luckily, a big group of members were opposed to the idea of signing such a thing and left the room or did not attend.
For the general assembly they brought in guests and relatives by bus from other provinces and other cities to have more votes in their favor. Nobody knows how many of the people present were actually church members. Some of the members who were present said they did not recognize many of them… but, still, they signed in favor of the plan prepared by continental director Shin and others. Some of the members complained that they felt they were forced to sign under duress.
So, what is their plan to establish Cheon Il Guk in Paraguay and the rest of Latin America? Does In Jin Nim or continental director Shin have a strategy they shared with the members? What will they do after they are done bringing Hyun Jin Nim down as they did in Brazil? How will they pay the many taxes and other costs? How will they maintain the companies? How will they maintain public relations after attacking Hyun Jin Nim who is well respected in Paraguay?
Meeting with VIPs
It looks like there was a meeting between Mrs. In Jin Moon (with her delegation of 15 people) and the vice-president of Paraguay Frederico Franco. We know about this because after they had their meeting with the vice-president, the Foundation (GPF) received a phone call from the office of the vice-president asking for clarification of who she was because the vice-president thought he was receiving a group sent by Dr. Hyun Jin Moon.
Conclusion
It would have been nice if In Jin Nim had considered visiting Leda. The Leda project is where the Japanese National Messiahs literally dedicated their lives. It is an exemplary and divine place in Latin America, and perhaps in the entire world, of sacrifice and complete devotion. Hyun Jin Nim visited Paraguay four times and Leda four times.
Dear brothers and sisters of Uruguay and Argentina, surely In Jin Nim's stay in your respective countries will be very beautiful and good. We doubt she speaks against her brother publicly or speaks about the conflicts as she did here. We hope that next time she comes to Paraguay she may come with a different attitude.
This report was done by these Paraguayan members:
Jimmy Dueck
Felipe Paredes
Rosanne Schiefelbein de Paredes
Veronica Dueck de Blanco