| | |
| --- | --- |
| | The Words of the Devlin Family |
Family Ranch Opens its Doors to God's Family
Gerard Devlin
October 8, 2008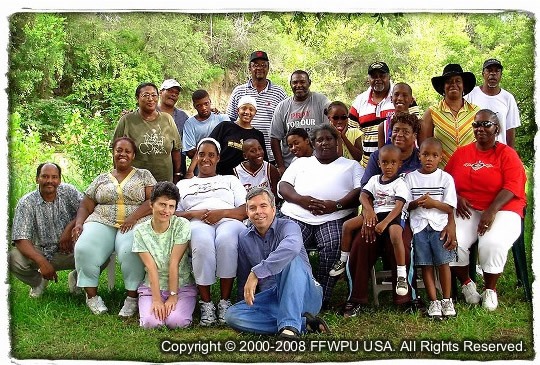 Storied retreats on the land are a tradition of our Texas Family that goes back for decades, but the opening of a new conference center on the family-owned ranch of Ken Morgan, pastor of the Austin Family Church, has opened an exciting new chapter.
The Morgan ranch is set in the beautiful rolling terrain of the Texas Hill Country, situated between San Antonio, Austin and San Marcos - an area still unaffected by urban sprawl. Morgan's 200 acres - large enough by any stretch of a city dweller's imagination -- seem even larger due to the fact that it's made up of a variety of hills, fields and the Blanco River valley. The vegetation consists of oak, cedar, pecan, mesquite, black walnut, varied ground cover, and yes, cactus. The abundant wildlife includes deer, wild turkey, armadillos, buzzards, hummingbirds, and cardinals. There are cliffs, limestone-studded hills, spring-fed creeks, two waterfalls, several small caves, abundant fossils, and reportedly, the site of a Native-American village. The ranch's closest neighbors are the Texas longhorn cattle who visit a nearby field every evening, and everybody knows everybody.
The workshop area, called Tejas Trails, is the personal project of Ken Morgan, pastor of the Austin Family Church and his wife Anne-Marie. The idea had been in the back of Ken's mind for years, but it really took shape in the summer of 2006 when he invited the congregation of Pastor Clarence Jones' Greater Saint John the Baptist Church for a weekend of camping and fellowship.
"Incredible," said Ken. "Besides having a world of fun, we grew in a day or two to a level of "family heart" that years of church outreach efforts including prayer breakfasts, conferences, service projects and more - had not achieved. Barriers of race and ethnicity simply melted away, there was a sense of childlike freedom. Half of the congregation stayed up all night around the campfire laughing, playing dominoes and telling stories, fueled by our brotherly love and the joy of life. "I realized this phenomenon, centered on intimate openness, respect and love for one another -- when amplified by the beauty of God's creation -- held a great potential to advance goodness, " says Morgan.
"God has already done the heavy lifting so our part would be small, but vital; like the child driving down a dirt road sitting in his daddy's lap.. The feeling was very much like when you invite close friends or relatives into your home -- what's ours is yours, you don't have to ask. I now had the spark, the vision -- I just needed to make it happen, " he explains.
After that experience, the Morgans, along with dozens of volunteers and several local carpenters, started to build a 3600-square-foot meeting hall complete with a commercial kitchen, pharmacy, office, pantry, six air-conditioned cabins and a bath house. Recalling the good days he spent as a boy on Crabapple Creek, Ken contracted an earth-mover to dam the creek on his property to create a swimming hole for the kids.
How, practically speaking was all this able to come about? Ken's family were half owners of a successful local business known as "Luckenbach Texas," of Willie Nelson and Waylon Jenning's "Let's Go To Luckenbach Texas" fame. The sale of this property, along with other inherited estate holdings of his loving parents, Ken Sr. and Kathy Morgan made it possible. Ken regarded this inheritance as "God's Money" and determined to use it every penny for a Godly purpose.
The immense outlay of funds and rigorous time schedules have surely been a strain on the Morgans, but you could not tell it from Ken's relaxed equanimity or Anne-Marie's bright cheerfulness. The camp is now up and running despite the fact that a few finishing touches still need to be added. Even before the dust was settled, the first "formal" Unificationist camp, dubbed Camp Lonestar was held on June 22-29, 2008. The camp included four days of teen workshop, an obstacle course teaching survival skills including a camp-out under the stars) and the final three days of "family camp"; bringing parents, youngsters, teens and all comers together "as one family".
Ken's vision for Tejas Trails extends beyond his own church (Family Church of Austin) and its established relationships to include other churches, faith and service organizations, youth groups and beyond. He is currently installing an art and pottery studio, metal shop and a woodworking mill with plans for a recording studio and an exhibit of the local wonders of God's Creation on the drawing board with the ideal to share, teach, train and inspire. "It's for everybody, I want to open the door as wide as possible to share my dream of friendship, family and brotherhood."