| | |
| --- | --- |
| | The Words of the Cadano Family |
Rev. and Mrs. Hyung Jin Moon with HAN-PHIL Families
Ace Cadano
January 23, 2008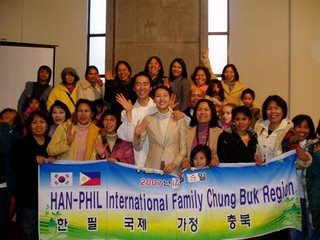 Many Filipinos and their testimonies proved their special happiness whenever they are with the True Family but this is rare to most. But the Filipina sisters who are blessed to Korean brothers and are now set as Han-Phil International Family in Korea are so blessed to have their weekends with Saturday Divine Principle Workshops and Sunday Services with no other than Rev. Hyung Jin Moon delivering the lectures and messages respectively.
The Chung Buk Region in Seoul, S. Korea is so blessed with the presence and services of one of the True Family members directly educating and inspiring the Filipinas.
The old and memories of Chung Pa dong church made of boxes and papers are so historical and are kept with their pose and in every heart of our members too.
The outgoing president of their organization, Mrs. Luz Sofia-Son is hopeful enough after their pioneering and laying of the foundation of the organization to hand the responsibilities to the new set of officers this year to Mrs. Loida Badua-Shin, Mrs. Nina Rosario-Lee and Mrs. Patricia Amaranto-Kim, president and vice president-internal and external affairs, respectively. And who is not blessed with this pose with a shoulder tap and award with the True Family? Sis Angie Dang il, the former Itenirary Worker in the Philippines and one of the few pioneers in the late 70's in the Philippines is awarded by Rev. Hyung Jin Moon. Congratulations to the Han-Phil leaders and members. Thank you to our dearest loving Rev. and Mrs. Hyun Jin Moon for taking care of the Filipinas in Korea.