| | |
| --- | --- |
| | The Words of the Cadano Family |
The Fifth Year Of Family Times Online
Allan C. Cadano
September 24, 2007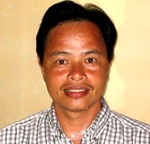 When Family Times was published on its tabloid form with then Edna Macesar and up to the time of Melchor Castro, I found it inspiring to see and read the accomplishments of the pioneers and members working in the UM Philippines for the Providence. That was a good communication arts work for the Word!
When Bro. Lito Juliano designed the Family Times Online as a website, the whole wide world could access the UM Philippines. They can instantly read and know what is going on in the Philippine Providence as they access it in their internet. The OFW members and internationally-based leaders, members and friends could read and know the success and challenges in the Providnece. We uphold for communicating the Word to the world.
Today, after 5 years of existence of the Family Times Online, our webmaster Lito Juliano made a new template design of our website. Technically, it is designed for any member to share and submit directly his article. He only needs to register as member in order to access the User Menu and submit his article. Once you click the "submit news" in the User Menu, a ready text-box will open for you to write your article. Once done, he can click save and his article will automatically go to the administrator for editing and final posting. We categorized the articles for True Parents News, the world affairs, national and regional activities. The headline news are rolling. The latest and most read articles are also displayed in the upper right column of the front page with good galleries in it. That makes the news website interactive. It can be equated to some international news website. The forum and ads will follow very soon.
Eventually, one Filipina teacher, Heidi, wo is now based in Korea happen to be a teacher of one of the sons of Hyung Jin Nim. She shared her article where she featured the son of Hyung Jin Nim in the person of Shin Man Nim doing fine in her class. She reported the website to the fahter of her student, Hyung Jin Nim. It made our website a direct window to the True Family then.
This is your website! It is now designed for you to directly share your reports and show this to your friends and community members. Feature your much-valued activities by submitting your reports to the website. There are affiliated organizations and acitivites, so many Peace rallies, Blessing activities, educational seminars, community-oriented services but all these are seemingly dead after those activites are done if we don't document and preserve those hardships.
Lastly, we are grateful to our webmaster on this new dimension. Significantly this launching of the new edition is also his natal day. Happy birthday to the new edition of our UM Phil Family Times Online website and to our webmaster Bro. Lito Juliano. We would like to thank also our contributors who patiently give their reports, summaries and breaking news. To our lay-out artist who is far-based in Canada but keeps helping us, Bro. Mitch Sagala, thank you for your whole-hearted services and efforts. To our donors, FT Online is nothing without your open-heart and hand. Our "no-budget" website course survived because of you! Maraming,maraming salamat po sa tulong ninyo! God bless us all!
For the greater good,
Allan C. Cadano, Ph.D.
Family Times Online, Editor