| | |
| --- | --- |
| | The Words of the Armia Family |
PSNEI/ NSTP recognized World CARP Philippines on its 5th NSTP Day
Aileen A. Armia
March 9, 2008
World-CARP Philippines Correspondent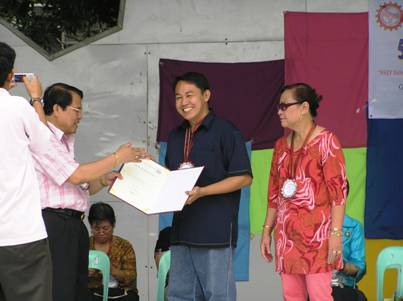 World CARP Philippines in its continuous dedication in the field of service and development have been recognized during the 5th TUP NSTP Day last March 9, 2008 at Technological University of the Philippines (TUP Manila).
On behalf of W-CARP Philippines, Dr. Aldrin L. Nituma, National President, received a certificate of recognition as one of the activity partners of National Service Training Program (NSTP) and Philippine Society of NSTP Educators and Implementers (PSNEI) headed by their president, Dr. Florida C. Labuguen.
Among all government and non-government organizations, W- CARP is the only campus-based group that participated in the activities and projects that brought about good quality-impact to students in various universities in Metro Manila.
The 5th TUP NSTP Day with the theme of "NSTP Delivering as One: Achieving the TUP Goal in Helping to Improve the Community", is an expression of the NSTP partnership with the government organizations and non-government organizations. It aims to apply the required skills and knowledge from the theoretical and actual training program gained by the students through friendly competition and promotes camaraderie which strengthens the relationship between the students, coordinators of the different campuses and other partners in the implementation of the program.
The program started with the welcome address of the TUP Vice-President of Academic Affairs, Dr. Evangeline M. Dayap and the program keynote speaker, a CHED Supervisor and NSTP Coordinator, Dr. Marivic Ireberri. She boosted the values of NSTP to the students as well as in contribution to the community and noted that the program leads to raising high quality individuals that will spread the culture of service to the society. Dr. Godofredo E. Gallega, President of Technological University of the Philippines (TUP) declared the opening of the 5th TUP NSTP Day, and bestowed inspirational and promising message to the TUPians respectively.
In line with this, parallel activities were conducted such as Food Feeding Program, Medical Mission, NSTP Trivia Contest, Palarong Pinoy, Cultural and Arts Competition, First Aid Competition, Group Location Together/Exhibits, and many more. The highlight was the awarding ceremony and graduation of the NSTP students with the presence of Dr. Godofredo E. Gallega, University President, Prof. Aida V. Huang, University Registrar and the UNSTP Director, Dr. Florida C. Labuguen.
With this inspiration, World CARP chapters nationwide will continuously supplements its goals of creating social and cultural impact through the opportunities that lies ahead.