| | |
| --- | --- |
| | The Words of the Andres Family |
Profs Niduasa and Navalta grace Fil-Thai Blessed Community in Bangkok
Ted Andres
May 1, 2008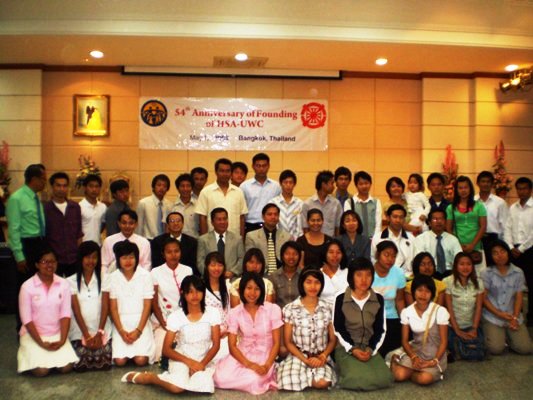 Bangkok- It was indeed a celebration and a rare occasion for the Fil-Thai Blessed Community to join the One World Family in celebrating the recent Foundation Day of HSA-UWC with their very own Prof. Federico "Kuya Eric" Niduasa and Prof. Celestino " Kuya Joseph" Navalta in Bangkok, Thailand last May 1, 2008. The rare chance came due to the joint VIP Seminar for the more or less 70 VIP delegates coming from Philippines and Thailand held in Bangkok prior to the Foundation Day. Prof Niduasa and Prof. Navalta were the seminar lecturers.
Accordingly, aside from the seminar participants, the Thailand Blessed Family leaders were also inspired by the two Filipino lecturers and promised to invite them again in the future.
Eventually, during the Foundation Day celebration Kuya Eric was asked by the Thai leader to join them in the cutting-of-the-cake during the ceremony. It was an honor to the Filipino members to be represented by their Kuya Eric in there too. Also Kuya Joseph was asked and rendered a song. He serenaded the audience with the theme song of GPF 2007, "One Family Under God". Moreover, the Fil-Thai group offered some songs as well during the celebration. After the ceremony, the celebration made the members including the two Filipino lecturers enjoy the Thailand fruits like durian, rambutan and the like. To the Filipino members in Thailand, even though they didn't have such substantial offering than showing themselves with the two Filipino leaders, they consider that it's a blessing and spiritual upliftment for them to meet and be joined somehow by the representatives of Heavenly Father and True Parents from Philippines. It was a happy reunion for them having the Foundation Day celebration with Kuya Eric and Kuya Joseph.