| | |
| --- | --- |
| | The Words of the Vokel Family |
Typhoon Victims in the Philippines Receive Clothing
Ulrich Volkel
August 1985
IRFF Chairman in the Philippines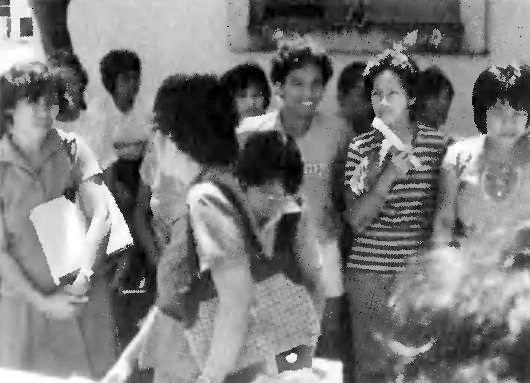 Filipinos whose homes were destroyed by typhoons gather to receive clothing from IRFF.
Typhoons in late 1984 destroyed thousands of communities in the Philippines and prompted an intense effort by the International Relief Friendship Foundation (IRFF) in Japan to collect clothing to be distributed to those left homeless. The province of Bohol, one of the hardest hit by the typhoons, was targeted when the 20-foot container of clothing arrived from Japan. The Philippine Port Authority cooperated by waiving all taxes and wharfage fees as their contribution to this public cause. IRFF personnel, including Mr. Ulrich Volkel, Mr. Jun Paeste, Mr. Leonardo Saripa, and Ms. Augusta Arriola, coordinated distribution with the governor of Bohol and the Ministry of Social Services and Development (MSSD). The governor provided the trucks necessary to reach the most remote areas affected.
Our first distribution to the needy was in Tagbilaran City. The homeless and children were the primary recipients. Then clothing was distributed to needy fishermen, and uniforms were given to the Catholic Charismatic Choir. Even the inmates of the local jails, who now had inadequate shelter, were given blankets and towels. The towns of Guindulman, Candijay, and Anda also received a bulk amount of clothing. The mayors, barangay captains (community leaders), and head teachers received the goods for their areas and distributed them to thirty of the most impoverished families in each barangay.
IRFF worked in cooperation with local university students who are members of the Collegiate Association for the Research of Principles (CARP). They volunteered their time to distribute clothing to the towns of Mabini, Alicia, and Ubay.
Our hope is that this project will set a good example of cooperation between the Philippines and Japan, and between the Philippine government and various private and religious organizations. A donation like this from Japan will surely inspire gratitude among our people and create a good relationship between the two nations. We believe this project demonstrated to the government that working in cooperation with private relief agencies and religious groups can foster harmony and effectively serve the people in a practical way.