| | |
| --- | --- |
| | The Words of the Ohtsuka Family |
Day of Peace in the Urals Region, Russia
Katsumi Ohtsuka
September 21, 2010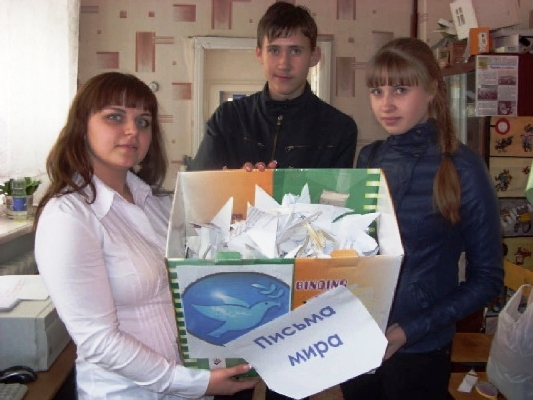 Serov and Ekaterinburg, Russia -- Two celebrations in the Urals helped build goodwill with people of Georgia as part of UPF's South Caucasus Peace Initiative. The celebration in Serov featured an exchange of letters between students at schools in Georgia and the Ural region; at the Sverdlovsk Regional Medical College in Ekaterinburg, torches of peace were lit and messages of peace exchanged with people from Georgia. In Ekaterinburg, representatives of various religions also offered prayers for peace
Serov
An exchange of letters between students at schools in Georgia and the eastern foothills of the Ural Mountains was a highlight of the International Day of Peace celebration in the Sverdlovsk region of Russia. This is one type of grassroots relationships emerging through the South Caucasus Peace Initiative over the past two years years.
On September 21, children from school 14 saw the slogan "'Forgive me'… is the starting point of Peace" on the wall of the school building. Many of them summoned their courage to apologize to other people and their teachers for rude words and deeds, for being unfair, for giving offense. This peaceful morning opened the International Day of Peace under the slogan "Youth for Peace and Development."
In the middle of the day, children and teachers gathered together before the school building. In remembrance of people killed during wars and in acts of terror, children released into the sky dozens of white balloons. They expressed their desire that on such a day people should not only speak about peace, but also try to do something real to make it happen.
During the meeting a letter of one girl from Georgia, a 9th form student at school 136 in Tbilisi, was read aloud. As a participant of the joint peacemaking project of the UPF, Ural chapter, under the slogan "Ural -- Georgia: we shall be friends," within the schedule of the South Caucasus Peace Initiative, in cooperation with the UPF, Russian branch, she proposed to help children in their efforts towards friendship and peace between Russia and Georgia.
Darya Ganina, a 10th form student of school 14, read the letter: "We share one common idea: all of us desire peace and friendship. This is principle. Let us together make the good foundation for the future generations to build the beautiful Home for all the people!"
The Georgian girl's letter was answered by hundreds of letters to peers written by children of school 14 with offers of friendship. Through Ambassadors for Peace, the letters will be dispatched not only to Georgia but also to many other countries.
Elena Levina, another 10th form student at school 14 wrote: "White color is the symbol of peace, that's why we wrote letters and folded them in the form of white doves. We are sending them to many republics and nations. I would be happy to receive a letter in return, because it's so wonderful to have a friend in a different nation! We marked our letters as Addressed to a friend."
Finally, children and adults joined hands and tried to "embrace" the school building with a "living" ring. At first, they couldn't accomplish the task, but with the help of the junior children who ran up to join the chain they managed to link the circle. A circle is a symbol of eternal life that can be obtained only through peace.
L.V. Turanova, deputy-director of school 14, said: "The faces were shining with delight, happiness and joy. Bright childhood impressions remain in children's minds for a long time. I wish our children to be kind, peaceful, and beautiful. Let them always in their lives strive for concord, friendship, and peace.
The UN General Assembly declared the International Day of Peace as the cease-fire and non-violence day. Children of school 14 who joined this world action by their own free will two years ago and are developing their character, showing empathy with grief of other people, training their minds, and trying to build bridges of friendship through their own efforts.
Sverdlovsk Regional Medical College, Ekaterinburg
A second occasion on September 21 gave citizens of Yekaterinburg the opportunity to demonstrate their openness, peaceful aspirations, and support of UN activity. Through the slogan "Peace = future. The arithmetic is simple," UN Secretary-General Ban Ki-moon declared that special attention should be given to the youth during this celebration day. Therefore, the initiators of the event sought cooperation with young people.
The initiative was enthusiastically taken up by students and teachers of the Sverdlovsk Regional Medical College, headed by I.A. Levin, a specialist in nursing management with the Ministry of Public Health in the Ural Federal District. The college is highly respected throughout the Ural region not only because of the quality of its professional education but also due to moral and spiritual education it gives to future medical workers.
A beautifully decorated hall was filled with teachers and students of the college. Among the guests were representatives from the city; medics and veterans from the Great Patriotic, Afghan and Chechen wars; a postgraduate student of the UNESCO Open International School; creative teams from the Russia State Pedagogical University; teachers from the Association of Teenager Clubs; teachers from school ?163; and representatives of the Vinakh Regional Center of the Chechen culture. In total there were 250 participants.
Besides enjoying artistic performances (songs, dances, theatricals, exhibits of clothing made from non-traditional materials), participants shared about importance of peace, personal responsibility, and the great potential of each person to engage in peacemaking activity that promotes world peace. Through informative exhibits and reports by a representative of UPF-Urals, participants learned about developments in "Ural–Georgia" project that was launched in the Urals on the International Day of Peace-2009 connected with UPF's South Caucasus Peace Initiative.
The culmination of the event was the lighting of Torches of Peace to the sound of the music about peace. Similar to last year, there was a symbolic exchange of torches between Yekaterinburg and Tbilisi and reading and signing the address to all people of good will and the youth. The participants of the event felt confident that this celebration would lead to future peacemaking activity.
Ekaterinburg -- Prayers for Peace
As in the past, the Urals chapter of Universal Peace Federation participated in projects and initiated its own projects to promote dialogue and cooperation among followers of different religions and religious traditions. Throughout the centuries of their existence, spiritual trends and confessions have preserved their spiritual values, and accumulated historical experiences in promoting human development, and created deep philosophical and theological teachings. This resulted in diverging interpretations of issues, disconnect, and even hostility among the followers of different religious teachings.
But world peace can be reached only through unity among diversity while cultivating mutual respect and joint practices.
Therefore, peacemakers in the Sverdlovsk region initiated various events to help solve problems of the above-mentioned nature. On the eve of the International Day of Peace-2010, activists of the UPF-Ural chapter, together with the University of Spiritual Culture Brahma Kumaris and Conciliarism in Ural, invited followers of different religious traditions to join the energy of their intentions full of light and purity into one powerful stream. The external symbol of this unity in prayer was the Ceremony of One Cup: during meditation, participants held in their hands vessels filled with water that was finally merged together in one big cup.
All participants (about 40) expressed their desire to show example of friendly relations and continue their cooperation on ways to establish a culture of peace. Their intentions were confirmed by reading and signing a "Declaration of Expanding and Supporting Ideas of Peace by Followers of Different Religions and Religious Traditions."
In the end of this important event, there was a tea party and a big celebration cake.