| | |
| --- | --- |
| | The Words of the Matsumura Family |
An Iwo Jima Relic Binds Generations -- Yoko (Matsumura) Takegawa
___ and Japhet Weeks
September 18, 2009
New York Times
___ contributed reporting from Fort Lee, N.J., and Japhet Weeks from Sanjo City, Japan.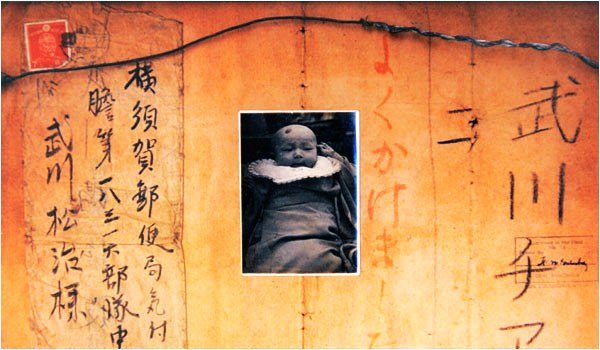 For many of his 85 years, Franklin W. Hobbs III has managed to distill good fortune from bad luck. Orphaned at 10, he wound up in the care of loving -- and wealthy -- grandparents. After World War II snatched him from Harvard, the G. I. Bill sent him back for a master's in business administration. Rocky moments in his career often led to lucrative, fulfilling opportunities.
Mr. Hobbs, an untested corporal in the Army Signal Corps, doubted he would survive the barrage of mortar shells and gunfire awaiting him on the Japanese island's besieged beach. Then he met a streetwise Detroit schoolteacher named Schnarr, who tossed four words his way: "Stick with me, Frank." The unlikely pair clambered off the boat together and stepped past scores of slain and wounded Marines.
"I had never seen a dead person before," Mr. Hobbs recalled in a recent interview. "It was awful. They were in the water. They were on the beach."
His gun had slipped into the sea, so he bent down and scooped a weapon from one of those killed. Then he and Schnarr, on orders to stay alive long enough to set up communications, dug a hole off the beach where they stayed, ducking rounds of fire and eating raw bacon, for two days. When the fighting moved farther inland, they got to work laying wire.
Driving a truck a week later, Mr. Hobbs stumbled on a Japanese soldier -- a tall man, like him, with no visible wounds, lying dead near a cave. The man wore a helmet and a military jacket. A white envelope peeked out of his chest pocket. Mr. Hobbs, then 21, opened the envelope to find a child's colorful drawing -- of youngsters lined up for an air-raid drill with buckets and padded garb -- and a photograph of a baby. He asked an intelligence officer nearby if he could keep it.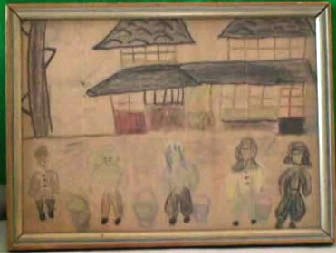 "I thought I would like to take it home, as a souvenir, to remember I have been in this battle," Mr. Hobbs said. "I don't know why I did it, other than I saw it there and I thought that was an interesting thing to get."
For more than six decades, he largely kept the envelope, the drawing and the picture -- and the war -- out of his mind. He was not a man given to ruminating over uncomfortable memories.
Years later, Mr. Hobbs's wife, Marge, stumbled across the envelope. Moved by its simplicity and its World War II pedigree, she framed the drawing, and, belying her frugal nature, put a second piece of glass on the back side to protect the envelope and the photo. It hung for years in the bedroom of their youngest son, who thought maybe his mother had drawn it in kindergarten.
Matsuji Takegawa never met his younger daughter; she was born after he left to fight in what the Japanese called the Pacific War, so he asked his wife to name her Yoko, which means "ocean child."
As a girl growing up in Sanjo City, Japan, and even as an adult, Yoko (Matsumura) Takegawa had no curiosity about his death or life. She preferred not to think about him at all, other than being grateful for one thing: His government pension paid for her schooling.
Yoko had always dreamed of going to America, but the only Americans she knew in Sanjo City were missionaries. So in 1973, at 28, she left Japan and came to New York to spread the word about the Unification Church.
Ms. Takegawa wound up in Albany, married and had a daughter of her own, Keiichi, or "blessed one." But life did not always go smoothly. Yoko divorced, and had to fend for herself financially. She settled in northern New Jersey in 1986, and eventually bought a tiny apartment in Fort Lee. Now 65, Ms. Takegawa hopes to retire soon from her job as vice president of Kokoro International, a small business selling Japanese-themed promotional items.
A year ago, Yoko's older sister, Chie Takegawa, called from Japan with unexpected news. Sanjo City officials had come to Chie's house with photocopies of an old envelope, a photograph and a child's drawing. Chie recognized the drawing at once. It was hers, set aside for her father after her second-grade teacher had praised it. She recognized the photo, too: her little sister, Yoko.
The items, the city official explained, had belonged to their father, Matsuji, who the family knew had died in the Battle of Iwo Jima. A Japanese-American woman in Connecticut had brought in the photocopies, and the officials had tracked down Chie using the address on the envelope, though she had moved to a different neighborhood. An American veteran, a man who had fought on Iwo Jima all those years ago, was searching for the Takegawa family because he wished to return the mementos.
Later, after Yoko Takegawa had hung up with her sister in Sanjo City and had telephoned this stranger in Connecticut, it began to sink in. Her father had seen her face before he died; he had held her image near his heart during the battle. This realization, even so late in life, lessened a hurt she never knew she harbored and softened a sadness that had hardened long ago.
"My daddy carried that letter with my picture in his body, in his bosom," she said during a recent interview at her home. "I felt something, a spirit, come down in my body. This is treasure, a treasure that carried so much love to me. Before, I go to school with his money. But now, he sends his love to me."
"Now I feel as if my daddy is here," Ms. Takegawa said, gesturing around her small apartment, chockablock with Japanese ornaments. "I felt as if my father guided me to come to the United States to meet Mr. Hobbs."
A strong man who made a habit of making children laugh, Matsuji Takegawa earned his keep by running a liquor store before and during the war. It was his allegiance to the family business that kept him in the job. He aspired to something more, something novel -- manufacturing plastic, perhaps.
Then his draft notice arrived, and Mr. Takegawa felt his spirit crack, family members said. It would be his third tour of combat. And luck, as all soldiers know, is an unreliable companion.
He was 36 when Mr. Hobbs came across his body lying by the cave.
Mr. Hobbs, who always wanted to go into business, stayed eight months on Iwo Jima, cleaning up and laying down communications equipment, rarely mulling over the grim toll of the battle: nearly 7,000 Americans killed, nearly 20,000 more wounded; about 21,000 Japanese dead.
"It seemed to me it was a terrible waste for just that little island," Mr. Hobbs said in an interview at his home in Chestnut Hill, Mass. "I also realized how terrible war is, and how people die for really not a heck of a lot."
When Japan surrendered, Mr. Hobbs sailed home, his optimism and zest for life intact. In what would become a lifelong habit of looking ahead and not back, he plunged into building a new world. He married Marge, plumbed his contacts and found a job at a garment factory that made women's slips. Later, with a Harvard M.B.A., he turned his attention to salvaging small, troubled companies, usually at the behest of banks.
"I never mentioned Iwo Jima," he said of the decades after the war. "You don't talk about it, and I was busy trying to make a living."
Over time, four children arrived, and the family settled into a house in Concord, Mass. The colorful Japanese drawing hung once again on the wall, with Yoko Takegawa's picture and the envelope carefully placed behind a second piece of glass to protect them.
"I didn't know a kid had drawn it," said Mr. Hobbs's daughter, Dr. Helen Hobbs, 57, an investigator at the Howard Hughes Medical Institute at the University of Texas Southwestern Medical Center. "I thought it was just a piece of art. I knew the picture from top to bottom, left side to right side. But I never really thought about where it came from."
Two years ago, Mr. Hobbs divorced and married a woman from Greenwich, Conn., who is also known as Marge. As she went about organizing Mr. Hobbs's study in Chestnut Hill, a Boston suburb, Mrs. Hobbs came across the framed drawing lying on his desk. She turned it over, and found the envelope and the baby picture.
She asked her new husband about it, and with Iwo Jima a lifetime past, he told her the story.
"Did you ever think of giving it back to the family?" Mrs. Hobbs asked.
"I would like to do that," Mr. Hobbs replied. "My God, after all these years, they might like to see it. It's probably the last letter their father ever got."
Mr. Hobbs knew how it felt to lose a parent at a young age. His mother died of blood poisoning when he was 8, his father two years later of a burst appendix. Chances were the dead Japanese soldier he had seen on Iwo Jima was somebody's father. Perhaps the baby in the photograph or the child who had drawn the picture had shared his own sense of grief and loss.
Mrs. Hobbs reached out to a Japanese friend from her church, Reiko Wada, who translated the characters on the yellowed envelope. Mrs. Wada, who grew up in Kobe and has lived in the United States for four decades, took a photocopy of the envelope to the Japanese Consulate in New York to see if someone could track down the family. The consular officials agreed to help, Mrs. Wada said, but wanted to send the originals to Tokyo. Mr. Hobbs balked, afraid they would end up in some museum rather than with the family.
"That is out," he recalled saying.
So Mrs. Wada, 70, who returns to Japan twice a year to see relatives, took along the photocopies on her next trip. She handed them over to the social security department in Tokyo, which sent them along to the office closest to Sanjo City, which tracked down Chie Takegawa's new address. Then Sanjo City Hall officials found her.
"Three people came to me and asked if the letter was mine; I said yes," Chie Takegawa recalled in an interview. "I was so surprised that my father had cherished the letter so much. I think he kept it with him to feel like his family was close."
Every day since, she has placed a cup of water in front of a portrait drawing of her father. Offering rice to dead relatives is a common ritual in Japan; Chie Takegawa has tweaked it, knowing that soldiers on Iwo Jima nearly died of thirst.
"I felt my father had come back to life," she told her younger sister. "I felt like he had returned to me."
They met on a sunny day this spring at Mr. Hobbs's home in Chestnut Hill, then decamped to a luncheon at a nearby country club with their children, Boston's Japanese consul general and some foreign reporters. Until then, Mr. Hobbs had fixated on the search for the Japanese soldier's family. But when he saw Yoko Takegawa, her face told an achingly personal story.
"When she walked out of the car and came over and gave me a hug, it hit me," Mr. Hobbs said. "It meant so much to her. I had done something that I didn't even realize would mean so much to anybody. I just thought it was a collector's item."
"Look at this little picture here," Mr. Hobbs said, pointing to his copy of Chie Takegawa's colorful drawing. "It's almost a religious thing. It's something mystical."
Since boyhood, Mr. Hobbs had avoided symbols of death -- funerals, cemeteries, reading obituaries of anyone other than friends. But not so long ago, urged by his wife, he visited his mother's grave to scrub the moss off her headstone.
"I suddenly realized I remembered my mother," Mr. Hobbs recalled, and the memory spilled out.
Mother and son were hunting for turtles from a canoe on a pond in Massachusetts. He spotted a turtle on a log, and his mother, holding a wide net, trapped it inside. "She said, with a grin, 'Whichever way he goes, we've got him,' " Mr. Hobbs said. "And that's all I remember about my mother."
For Yoko Takegawa and Mr. Hobbs, memories of the war -- the hostilities between the two powers, the atomic bombs, the brutality of Iwo Jima -- had long since faded. It was a more personal hardship -- the loss of a parent -- that bound them together in kinship that afternoon in Chestnut Hill.
"Mr. Hobbs has such a beautiful heart," she said. "It was from this heart he saved for me the photograph and picture."