| | |
| --- | --- |
| | The Words of the Ikemoto Family |
Jamaica: Pioneering a Business
Karuhisa Ikemoto
April 1985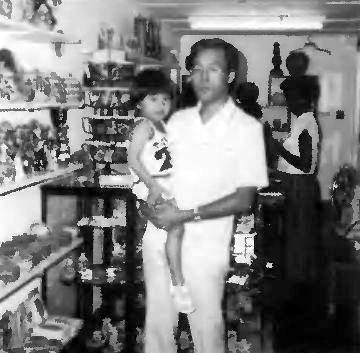 Mr. Ikemoto and one of his children in the Curio Shop in Ocho-Rios.
In July 1980, my wife Etsuko and I departed from the capital city of Kingston, Jamaica, to Montego Bay on the northern coast for a pioneer mission. The Kingston church center had about twenty members, and we wanted to expand our foundation.
Montego Bay is a famous Caribbean resort area with many beautiful hotels, white sandy beaches, and clear blue water. However, the people of the countryside are still poor, and getting poorer because of the country's unsolved economic problems. We were poor, too, but we didn't mind!
We began our own small business project to help support our missionary work. In the area there were many duty-free gift and craft shops which competed with each other. From factories we purchased bisque (ceramic ware that is hard-fired and vitreous, but not usually glazed), painted the pieces by hand, and sold them to the local gift shops.
No Cash, No Savings, No Credit, and No Assets
One year later we bought a used car in order to obtain larger amounts of raw materials and to speed up delivery. From this time, the amount of sales increased significantly. It was so difficult for us to buy a car, however: we had no cash, no savings, no credit, and no assets which we could offer as collateral for a loan. I felt at that time as if we had financial anemia.
We were gradually able to expand our market, but we suffered some limitations. The cost of materials purchased from the factories was high, and their quality and quantity were unreliable. Also, hand painting was too slow to meet the demand.
Finally, we decided to make our own factory. We purchased an electric kiln and a potter's wheel in New York City and shipped them to Montego Bay. Then we began to obtain bags of clay from a group of people who dug it out of a mountainside nearby.
The raw clay always has to be separated from stones and roots with a fine mesh filter, which is a difficult process. The clay is then dried on plaster, kneaded, shaped, and sculpted on the wheel and left to dry for a day. Pieces are then fired in the kiln for about 10 hours. We make articles such as flower vases, dinner bells, ashtrays, tea sets, and plates. On the bisque we paint designs with flowers and hummingbirds, using fine Japanese brushes and ten acrylic colors. We also use some prefabricated glaze designs called decals to increase our speed.
Having developed our own factory, we visited the many shops, both large and small, and worked with about one hundred of them -- which could sell our product quickly and provide good payment policies -- as our wholesale market. We got many new ideas for products from our wholesale customers, and we could not keep up with the demand.
Through this experience we realized the potential profitability of going retail. Real estate in the area was too expensive; but we asked a tour company to divide their office in two and they agreed. So we opened The Curio Shop in Doctors' Cave Beach.
Several months later, one man came by who thought our shop was quite unique, and invited us to open another one in his shopping arcade. This became the second Curio Shop, in Ocho-Rios. Finally we bought one more shop in Montego Bay in front of the Holiday Inn shopping center, and called it The Design Hut. (On that foundation, we could qualify at last for a loan from the bank!)
We found that managing a retail business is very different from wholesale. We were always in need of more knowledge in such areas as taxation, licensing, accounting, management, large business sales, and legal matters. Sometimes we felt that we were groping in the dark, but we knew enough to manage adequately.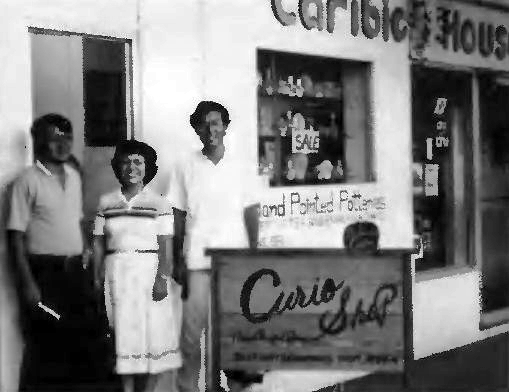 Members stand in front of the Curio Shop of Doctor's Cave Beach.
Investing In Jamaica's Future
Clay is an indigenous material widely available in Jamaica. It was significant that we manufactured a viable sales product within the country itself. Governments of developing countries welcome foreign investment, but they are unhappy when the profit is sent out of their own country. Jamaica, like other developing countries, is burdened with import restrictions, foreign exchange problems, and lack of technology -- all of which tend to make investment difficult. However, we conceive still other possibilities for indigenous businesses, such as the making of silk-screened clothing, and transportation and restaurant services. Also, the use of molds and bigger equipment would enable us to produce enough pottery for export.
My wife Etsuko and I are so grateful for Heavenly Father's and True Parents' guidance for our business, and also for the protection of our two children Tokukatsu and Tokutaka, who were both born in Montego Bay.