| | |
| --- | --- |
| | The Words of the Giampaoli Family |
A Gift to Lebanese Children -- IRFF Sends Aid to the War-Torn Nation
Michael Giampaoli
July 1985
Executive Director of IRFF in the United States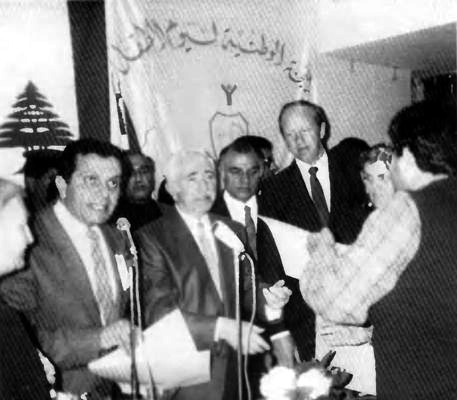 Lebanon's prime minister, Rashid Karame (with white hair), thanks IRFF representative Thomas Cromwell (second from the prime minister's left) for IRFF contributions to war-maimed children.
The tragedies seem to be never-ending, and the children grow up amidst violence, hatred, bloodshed, and extreme fear. In Beirut ten years of political strife have left thousands of children orphaned in the streets, their schools closed, their homes wrecked. The Lebanese Child Welfare Association (LCWA), founded in 1936, has been a constant source of aid and comfort for the children of this war-tom country.
Last year the association adopted 500 refugee families and distributed clothes, toys, milk, and other foods to 2,000 children. Mrs. Zahia Salman, who is the president and founder of LCWA and is respected throughout Lebanon for her humanitarian service, has worked tirelessly in serving the helpless and suffering in Lebanon, primarily in Beirut.
This year, Mrs. Salman sent an urgent request to the International Relief Friendship Foundation (IRFF) to help her organization purchase gifts for Lebanese children wounded or orphaned in the conflict that has divided Lebanon. The Week of the Child is an annual event commemorated throughout Lebanon, and it promotes a wide range of cultural, educational, and service activities presented by and for children.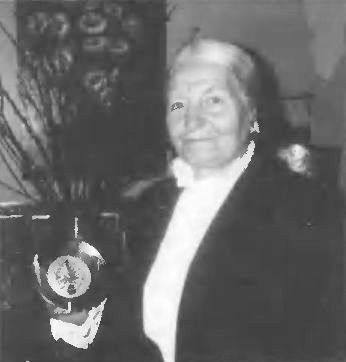 Mrs. Zahia Salman, president of the Lebanese Child Welfare Association, receives a plaque given by IRFF which bears the inscription: "To Zahia Salman in recognition of her service to Lebanon's mothers and children."
Normally the government provides aid for the event, but this year, because of the divisions within the government itself and the heightened intensity of the conflict, it was unable to do so. IRFF responded to Mrs. Salman's request, enabling the Week of the Child celebrations to go on as planned.
Children representing the six prefectures of Lebanon participated in competitions in oration, essay writing, handicrafts, drawing, and music. All of these activities sought to embody this year's theme, "Our Children, the Witness and the Cause."
Some of the other activities that took place were: a march of scouts and schoolchildren through the main streets of Beirut; radio and television programs; visits to sick and handicapped children in hospitals and institutions; the opening of a free kindergarten in one of the poorest districts of the city; and the offering of scholarships to needy children. Besides supporting the April 1985 Week of the IRFF's contribution provided toys, clothes, and educational materials for various children's centers.
At the opening of an exhibition of photographs depicting children affected by the war, IRFF representative Thomas Cromwell presented the IRFF contribution to the LCWA. Mrs. Salman presided over the occasion. Prime Minister Rashid Karame addressed the gathering, expressing his gratitude to IRFF and personally thanking Thomas for his effort and support. In the midst of continuing desperate circumstances, Mrs. Salman continues her courageous fight for the children of Lebanon and for the hope that the future will bring peace.