| | |
| --- | --- |
| | The Words of the Ga Family |
Reflection for Daegu Leadership Seminar
Leilani Eulalia Ga
July 17, 2011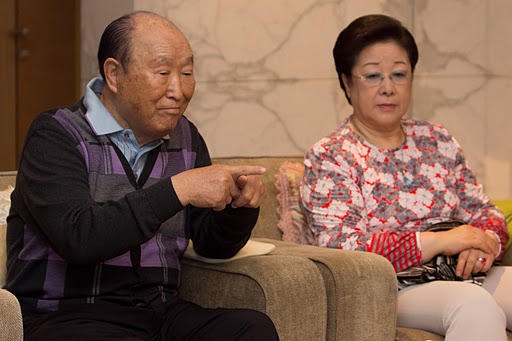 Sun Myung Moon and Hak Ja Han May 5, 2011
I had the opportunity to attend Bishop Winny's lecture on Leadership on Saturday July 17 in Daegu City an hour by fast train from Pusan where I live. There were more or less 40 members and few non-members who attended the seminar for the first time.
Few days before the seminar I already received an invitation from Bishop Winny and my willingness was there. I told my husband not to go to work on Saturday because I wanted to attend the seminar and he needs to take care of our children while I'm away to which he promptly agreed. Two days before the schedule my husband's working place had some trouble so they were sent back home early. A shorter working time means more work the next day. So I told him if he will be busy he doesn't need to be absent so I will cancel my plan to go to Daegu.
Then came Friday, my husband misplaced his eyeglasses and couldn't find it. It was almost late and he was afraid to miss the company bus so he left without eyeglasses. When he came back home that afternoon his eyes were badly hurt and couldn't open them easily because he did some welding jobs even without eyeglasses. We did some cold compress just to ease the pain but felt he needed another day off. I thought it was some kind of blessing at the same time sorry that he was sick. So the next day, Saturday, I went off for the seminar and received a lot of inspirations.
Being a member of the Unification Church for almost two decades, I had attended a lot of Divine Principle Seminars but that was my first time to listen and hear the Divine Principle in another approach -- the practical and less religious approach yet effective one. I'm happy to be there and found myself taking notes as if it's another level of information and knowledge. As a leader of our region I realized I have a lot of leadership characters that need to be developed and how to become an effective leader and member. The lecture was just fit for both members and non-members as well. As it went on I kept on thinking about our members in our region who were inactive in our church for quite some time. I felt that the lectures could help them slowly come back to our church again. In Pusan where we have a teachers group, I felt the lecture is helpful too to build relationships and develop responsible attitude as teachers and future leaders of our community.
After the lectures I chatted with Bishop Winny and received some good suggestions for follow up. She said to try to apply that suggestion for one month and see what could be the results. My desire to listen more became deeper and all I could think of is to schedule immediately a leadership seminar in our area. I wanted to adapt some suggested strategies that she proposed and hope we could bring some people for next month seminar. After the Sunday service, I talked to some of our core members and was surprised to hear they have similar strategy presented to me. After the meeting some of our core members went to meet our Regional Pastor and was very happy for the plan. He suggested that we really need to offer condition and was even excited to hear that Bishop Winny will be coming to conduct the seminar. He promised to support us and his wife suggested that we can have one room as an office for our PBMK members. We were very happy to hear it and hope we can work together with our Regional Pastor and especially with one of the best Philippine lecturers in our church.