| | |
| --- | --- |
| | The Words of the Carazo Family |
In Memoriam: H.E. Rodrigo Carazo
December 9, 2009
UPF - International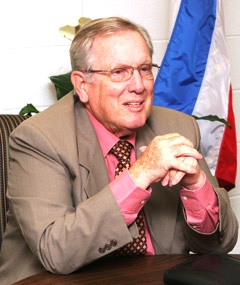 San Jose, Costa Rica - H. E. Dr. Rodrigo Carazo, President of Costa Rica (1978-82), died December 9, 2009 in San Jose, Costa Rica at the age of 82. His death was the result of complications from open-heart surgery.
During his term as President, in which he helped catapult Costa Rica to one of the leading nations for ecological tourism, he proposed the United Nations University of Peace, chartered in 1983 by the UN General Assembly, and he became its first rector. As he said at that time, "If you want peace, prepare for peace." After public office he devoted himself to working as a peace activist. In recent years, he took part in election monitoring missions in Latin America of the Carter Center, founded by former U.S. President Jimmy Carter. Just two months ago, he joined nine other former Latin American presidents in Lima, Peru, to warn against inequality, social exclusion, and the arms race in South America, and propose solutions to the continent's most pressing economic and social problems.
When he received word of his predecessor's passing, the current president of Costa Rica, Oscar Arías, declared three days of national mourning for Carazo, who is survived by his wife, Estrella, and four sons.
President Carazo was a great friend of UPF Founders, Rev. and Mrs. Sun Myung Moon, since 1980. He expressed appreciation for their determination to "place God at the center of our lives and all our endeavors." In 1992 and 1994, he led delegations of former heads of state to North Korea as part of the Summit Council for World Peace's effort to promote peaceful reunification of the Korean peninsula. A UPF Ambassador for Peace and member of its Global Peace Council, Carazo spoke at a peace conference in Seoul in July 2009 promoting "a renewed United Nations that embodies the parental heart of God."