| | | | |
| --- | --- | --- | --- |
| | The Words of the d'Silva Family | | |
Biography of Godwin M. D'Silva January 2, 1958 to February 12, 2007
Joy Garratt
March 10, 2007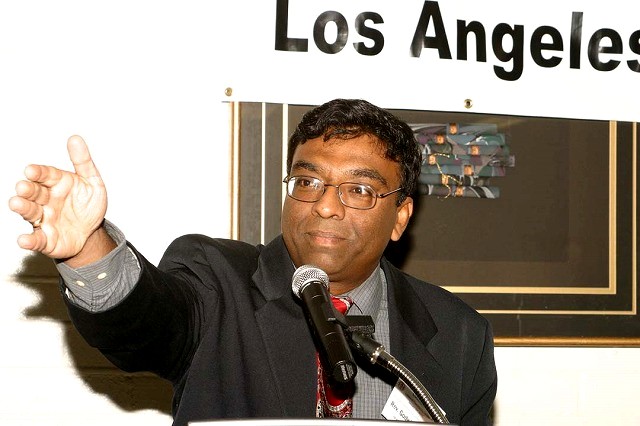 Godwin Macarius D'Silva was born on January 2, 1958, to George D'Silva and Christina Fernandez D'Silva in Kuala Lumpur, Malaysia. His parents, natives of India, had moved to Malaysia for his father's job. The oldest of six children, Godwin was soon followed by Lourette, Susan, Bernard, Annet and Cameila. Raised in the Roman Catholic faith, Godwin attended high school at Victoria Institution, a prestigious prep school and the oldest school in Kuala Lumpur. He won a scholarship to Oxford University where he majored in computer science and sought to understand the deeper meaning of life. In 1979, he met Ralph Latchman of the Unification Church. After studying the principles and deeply praying and mediating, he joined the church on September 16th and moved into the Oxford CARP Student Center where he lived for two years.
In 1980 Godwin came to the United States in order to serve as a missionary. Through participating on a mobile fundraising team and witnessing in Ohio and New York City, he came to deeply understand the challenges people faced both individually and collectively in their lives and made a deep commitment to working in America. In 1982, after working for Master Marine for a brief period, he brought his practical skills in finance to a job as an accountant with News World Communications in New York City.
It was while working at News World that he was blessed in Holy matrimony by the Rev. and Mrs. Sun Myung Moon on July 1, 1982 to his beautiful wife Darlene Antoinette Stewart. Their cross cultural marriage introduced Godwin to the soul food and soul music of Darlene's Detroit hometown and introduced Darlene to the richness of Godwin's South Asian heritage.
When News World opened a Spanish newspaper division in 1984 in Los Angeles, Godwin was the natural choice to head up the accounting department. By 1987 he was serving as the general manager. Meanwhile, Godwin and Darlene began their family life in Alhambra. Godwin cherished the birth of his daughter Priya on July 4, 1987, and the birth of his son Urian on November 6, 1989. He was deeply moved by the opportunity to grow his heart not only as a husband, son and brother, but as a father as well.
In 1993 Godwin returned to his deep calling to do religious and interfaith work and became the state leader of Southern California for the Unification Church, ultimately becoming the first vice regional director in 2000. With a desire to deepen his understanding and knowledge of not only Christianity but the world's great religious traditions, he entered the Unification Theological Seminary after finishing his B.S. at Regents College of the University of the State of New York. In 2003, he graduated from UTS with a Masters in Religious Education and returned to Los Angeles where he fulfilled the post of state leader of Southern California.
During his years as state leader, Godwin helped to start the Ocean Challenge Project in 1992 and has continued to serve as a board member. He worked on The California Times; helped organize a National Parent's Day program for the City of Southgate; and has organized and taken responsibility for numerous of church-related inter-religious, educational, community and social outreach programs. Multilingual in Spanish, Malay and Indian languages, his skills always proved valuable in Los Angeles.
In late 2004, Godwin discovered that he had colon cancer and began a variety of treatments embracing the best of what the East and West had to offer. One of the most effective treatments proved to be the faithful prayers of his mother combined with her home cooking. No matter how challenging his health, Godwin kept his spirit strong and continued to involve himself in the highest levels of providential work. He visited the Middle East with the peace initiative, helped organize the world tours of the Rev. and Mrs. Sun Myung Moon in India and Malaysia and continued to actively develop programs and relations with ambassadors for peace. One of his proudest moments was presenting the crown of India to Rev. and Mrs. Moon at the opening of the Chyeong Gyeong Palace.
Godwin passed away on February 12, 2007 at 1:23 a.m. at home surrounded by his beloved family and friends. He will always be remembered for his beautiful smile which reflected his deep heart of faith, love, loyalty and eternal curiosity about the people and the world around him.
He is survived by his beloved wife Darlene, his daughter Priya, and his son Urian and a huge loving family. That family includes his mother, Christina D'Silva and his siblings: sister Lourette and her husband Canute Magimay and their three children, Jeannelle, Jonathan Joseph and Jessica; sister Susan and her husband Sam Martin and their two children Lisa Marie and Liam; brother Bernard and his wife Allison and their four children, Alexandrea, Dylan, Daniel and Jude; sister Annet and her husband Don O'Mara and two children, Kristen and Chelsea; and sister Cameila (Priya) and her husband Philji Johns and their daughters Georgina and Hanna. He is also survived by his mother-in-law, Quincy Stewart and his brother-in-law, Keith Stewart and family and his sister-in-law Deborah Stewart and her children Charmaine, Antonio, Junior, Le and Styron.


Download entire page and pages related to it in ZIP format


Table of Contents


Information


Tparents Home