| | | | |
| --- | --- | --- | --- |
| | The Words of the d'Silva Family | | |
Seung Hwa Ceremony for Rev. Godwin D'Silva, January 2, 1958 to February 12, 2007
Joy I. Garratt
March 10, 2007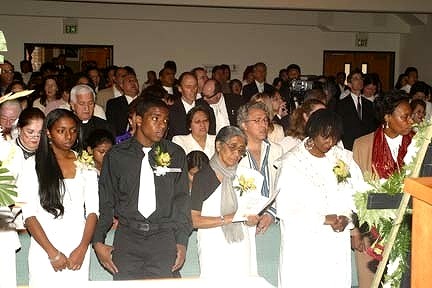 In a Seunghwa service characterized by tears, laughter, poetry and fond yet honest recollections, more than 300 family members, friends, local dignitaries and ministers gathered to celebrate the life of Rev. Godwin M. D'Silva at 10 a.m. on Friday, February 16 at the Los Angeles Peace Family Church in Temple City, California.
In the sanctuary where he had given so many sermons over the years, Godwin was surrounded by beautiful flower tributes from Hyun Jin nim and his wife Jun Sook nim, church leaders from throughout the country, and friends made over his many years working in the greater Los Angeles area. Not only was his beloved wife Darlene, daughter Priya, and son Urian present, but his mother Christina from Malaysia attended along with two of his sisters and their families who live in the United States.
Keith McCarthy, a veteran of numerous Ambassadors for Peace events produced together with Godwin, opened the Seunghwa service as MC, invoking the spirit of God with his prayer and calling the congregation to join the LA choir, Origin, in song.
Representing the national headquarters, Rev. Levy Daugherty, vice president of FFWPU and secretary general of ACLC, gave a beautiful and moving special message. One of Godwin's greatest and proudest moments, Rev. Daugherty recalled, was walking up a circular stairway to present a crown of India to True Parents at the opening of the Chung Gyeong Palace Museum. Rev. Daugherty likened those steps to the journey we each take in our lives, a journey that leads us all to our Heavenly Father in the spiritual realm, and a journey that Godwin will pioneer for us. Rev. Sheri Rueter then read a poem entitled "God Win, Godwin!!" written by Rev. Bento Leal and presented by Bento to Godwin during the final week of his life on earth.
After a prayer by friend Rev. Kevin Thompson and the reading of Godwin's biography by Rev. Nate Windman, one of Godwin's five siblings, Annet O'Mara, gave a touching and humorous eulogy recounting the experiences of growing up with Godwin, who was the eldest. In their native Malaysia where they were raised by their devout Roman Catholic parents, Godwin would sometimes play "church" with his siblings. Annet asked with a twinkle in her eye, "Guess who played the priest who told us we had to obey him since he was the eldest?" Annet and her husband then led the congregation in singing "Be Still and Know that I am God" based on Psalm 46:10.
Amarjit "AJ" Tahkar, who met Godwin when they both joined the Unification Church in England in 1979, and who was also of Asian Indian descent, shared anecdotes of their early experiences together, especially in coming to America in 1980 as missionaries and finally living near each other in Alhambra, CA. A third testimony came from long-time friend Andy Weiss, who had frequently traveled with Godwin to Korea and met him for the first time at the Los Angeles Holy Ground at Griffith Park many years ago.
At Godwin's special request, Rick Joswick performed "Someday My Love" with Origin, followed by an inspiring slide show of Godwin's life featuring his early years, his providential missions, and heart-warming photos of his family.
District 12 director Rev. Timothy Henning delivered the Seung Hwa Message entitled "A Graduation with Honors." Rev. Henning commented that "we are sending Godwin to the ultimate college, a higher level than even Oxford (which Godwin attended) or any seminary. He is graduating with honors. Let us resolve to carry forward his legacy for us and make this moment the start of a new level of love."
Before the final ceremony in which those gathered individually paid their last respects to Godwin, Darlene, his wife, spoke with poignancy and dignity thanking all who had visited Godwin and helped care for him during his final weeks at the hospital and in hospice care at home. She reminded everyone that Godwin would continue to have great expectations for them as well as for his family.
Godwin's won jeon then took place at a beautiful local cemetery, Live Oak Memorial Park, Monrovia, in the heart of the San Gabriel Valley. As the afternoon sun warmed everyone's bodies, the final songs, prayers and remembrances warmed people's hearts. Following the ceremony, family and friends gathered to share anecdotes and memories over lunch at Pasadena House, where Godwin had worked for many years.
Godwin passed away after a two year battle with colon cancer. Until his final moments, he sought to encourage brothers and sisters in their spiritual lives. He also sought to ask the forgiveness of anyone whom he had hurt during the course of his working life and ministries.
Darlene and her children, Priya and Urian, want to thank all the families and brothers and sisters for their prayers and support. Darlene says, "For those brothers and sisters who weren't able to attend the Seunghwa, we felt your prayers, we felt your love. Thank you!"


Download entire page and pages related to it in ZIP format


Table of Contents


Information


Tparents Home