| | | | |
| --- | --- | --- | --- |
| | The Words of the d'Silva Family | | |
Farewell Service to Rev. Dr. Baek Joong Ku and Mrs. Ku
Godwin DíSilva
July 9, 2006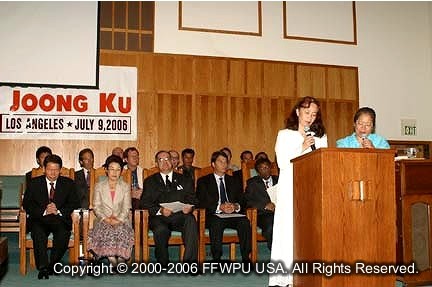 A rather profound and beautiful transition ceremony took place here in the Los Angeles Peace Family Church. Over 400 Family Federation members, several clergy, Ambassadors for Peace and friends gathered to wish a fond farewell to our very much loved and respected leader, Rev. Baek Joong Ku.
Rev. Baek Joong Ku has served the Los Angeles region close to 10 years. For the first 3 years, it was in the capacity as the Los Angeles KEA leader; after which Rev. Ku became the Regional Director for the Los Angeles region.
We had a special guest from National Headquarters Ė Rev. Joshua Cotter. The special transition ceremony started at 9 AM, with the entrance of the Los Angeles Peace Family choir marching in their long blue robes.
The Master of Ceremonies, Rev. Godwin DíSilva, then invited Rev. Nate Windman, the Education Pastor, to give the opening prayer. The opening prayer was very inspirational; Rev. Windman stated that while this is a time of change and transition and while we are sad about our leader Rev. Ku leaving, we are also determined to rise up to the occasion to serve God and True Parents more.
At this service, Rev and Mrs. Ku, true to their selfless and giving spirit, presented 2 Divine Principles books to each family. As each District was called out, several hundred families received a pair of Divine Principle books. These DP books are the color coded ones and the idea of each family receiving one is to encourage the Hoon Dok Hae Family church expansion.
After all the families and single members received their books, we had five testimonies from different people, all testifying to the great work of Rev. and Mrs. Ku. The first testimony was from Rev. Walter Frank, the Pastor of San Diego Church. Walter was very eloquent in praising Rev. Ku and Mrs. Kuís concern for the San Diego Family. Walter testified that once every month, Rev. Ku visited the San Diego church, something that previous Regional Directors had not done.
Rev. Frank also pointed out that Rev. Kuís Family Life lectures really helped members in their marital relations. Rev. Nate Windman then followed Rev. Frank by his recounting of how Rev. Ku patiently waited for Nate to finish up his family level foundation in order to try teaching Divine Principle again.
Co-Pastor Naoko Hiraki gave an emotion-filled testimony about the care Rev. Ku and Mrs. Ku gave to each Japanese family and especially how he supported the Kodan providence.
Then, Rev. Godwin DíSilva gave a moving testimony, outlining Rev. Kuís great work on education for all levels. Rev. Ku was especially noted for helping over 20 Christian minister couples understand core Divine Principle, participate in Blessings and become Peace Family Churches. Rev. DíSilva expressed with great emotion the gratitude he felt towards Rev. and Mrs. Ku for taking care of Rev. DíSilva and his family during the time of his health crisis.
Yoshiko McClellan then stood up to testify about how clear Rev and Mrs. Ku are about in money matters. All public moneys were utilized very efficiently and reported as such. Mrs. McClellan also mentioned that Rev. Ku had a great sense of humor and a talent to tell jokes and that if he did not join the church, he would have been a comedian.
The congregation then got a special treat; a special slide presentation showing all the achievements of Rev. and Mrs. Ku took place. Each year of his directorship in Los Angeles was chronologically shown up on the screen.
Upon the ending of the slide show, all members rose up to applaud and receive Rev. Kuís final message. Rev. Kuís message entitled "The 3 stories" was brief and to the point. Rev. Ku inspired the congregation, that this is a new start for the Elder Son Nation of America to take responsibility to change the world substantially. He chronicled his 7 years as Regional Director here, with the highs and lows.
After the sermon and a standing ovation for Rev. Ku, Rev. Joshua Cotter from National Headquarters come up and presented a special plaque. Rev. Cotter then read a letter for the transition to the congregation. Next, several organizations like the FFWPU, Ambassadors For Peace, Womenís Federation and several others all gave awards of recognition and appreciation to both Rev. and Mrs. Ku.
Rev. Henning together with Mrs. Henning then stepped up to the podium to be received as the Acting Regional Director of Los Angeles. Rev. Henning in his acceptance speech was full of praise for Rev. Kuís Leadership and promised to carry on the good work. Rev. Henning emphasized that it was due to each and every familyís effort that made Los Angeles one of the best regions in the country.
Magdalene Milsapp from the SADOC Peace Family Church sang "Peace, Shalom Alsalaam Malaikum" with the church choir. After the final benediction from Rev. Ku, he led us in 3 cheers of Mansei.
Group pictures followed after the service.


Download entire page and pages related to it in ZIP format


Table of Contents


Information


Tparents Home