| | | | |
| --- | --- | --- | --- |
| | The Words of the Yamamoto Family | | |

Second Generation Blessing Workshop at UTS - Being the Right Person
Kenritsu Yamamoto
January 26-28, 2007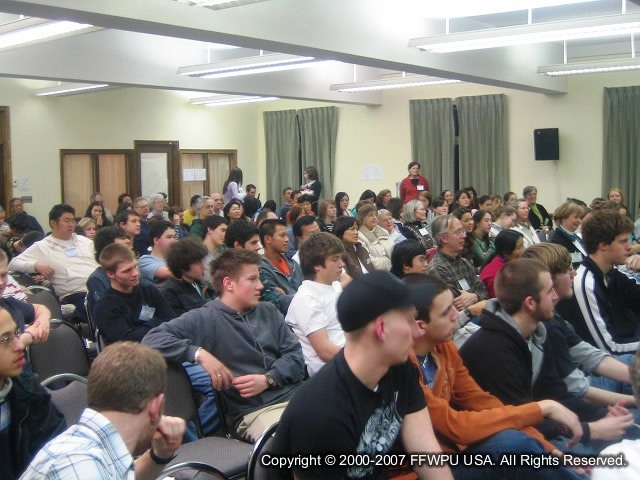 Participants arrived on the opening day of the Blessing Workshop to the crisp, clear air of pastoral Barrytown. They gathered here this weekend from as far away as Ohio, Massachusetts, Florida, even Italy and Norway. The opening day found much enthusiasm in the UTS kitchen and dining room as people got themselves situated.
Many of the participants were younger, like sixteen or seventeen, and most were not thinking of going to the Blessing or matching this year, but perhaps in one or two years. The attendance was surprising in its number, far beyond the normal expectation for a blessing workshop. We had over 140 people total in attendance. It was a great pleasure to all who were there that over thirty First Generation parents attended as well. Their presence was an inspiration, giving the workshop a new and welcoming feel. The participants were urged not to blame their parents but try to understand that they are not perfect and are trying their personal best.
In addition to the guidance, organization and leadership of Rev. Inguk Seo and Mr. Takamitsu Sakuwa, who worked day and night to prepare for the event, elder Second Generation couples shared their testimonies, giving the participants an insight into what life is like after the Blessing and after having children. David and L. Byrne shared what it was like living apart, as David was deployed in Iraq for many years.
David shared how he felt so good that he could trust his wife to be faithful, as he watched his fellow soldiers around him being torn apart, hearing from their wives and girlfriends that they had found someone else. The testimonies were concluded with an entertainment portion that showcased the amazing talents of Mitsuru Kubo on the viola, Zeth Bell (the man of many voices), Clair Hoover, Hye Chung Gehring, Josh Berndt, and others who poured out their hearts that evening.
Mr. Takamitsu Sakuwa, the director of Junior STF and staff member of the Second Generation Department, also was on hand to give a great morning service, where he explained how he made the decision to go the Blessing and how his own parentsí faith had helped him in that.
Rev. Schankerís lectures were very emotional and engaging. One participant appreciated how "real" he was and was grateful for his honesty in sharing about his own experience in the Blessing and the church. The beautiful PowerPoint presentation upon which he gave his lectures were a pleasure to watch, and made the entire lecture series much easier to understand.
He serenaded the workshop with heartfelt songs taken from popular culture, with powerful lyrics that showed the current state of many of our youth. He also had some examples of songs which reflected the false impressions of what is normal that is spread and perpetuated by the media. The use of music and imagery was refreshing and moving. Rev. Schanker shared, many times with tears, how much, how important the blessing is, and how crucial it is for Second Generation to know their identity and continue the tradition of True Parents in the blessing.
For Hoon Dok Hae, participants read Fatherís words and guidance on marriage and blessing. The topics we read included guidance on the ideal spouse from the viewpoint of God, the proper attitude toward matching, Godís reasons for international marriages, and the tradition of the Blessed Central Family. Rev. Schankerís lectures touched on all of these points as well. He passionately taught about Godís ideal for the Blessing as is shown to us in the Principles of Creation and how the Fall originated family breakdown. Restoration and Jesusí life and meaning showed us how precious are the lives and blessing of Second Generation. In addition, Rev. Schanker personally invested in the Second Generation who had deeper questions and even confessions to share with him. All of the participants partook in a written repentance and confession.
A special thanks and recognition go out to a young, new member who bravely and in great faith chose to attend this workshop. A friend of a BC, her presence at the workshop and her faith were truly an inspiration to those who knew.
Also, many Second Gen who attended came from very difficult situations and experiences. I am sure that God is proud of them, and they are much stronger and better people because of their experiences. Every person at this workshop helped to make it the success that it was. I am happy to say that the workshop went very smoothly, and many had an enjoyable experience. I am sure Father would be proud and joyful to see so many bright souls sharing in faith together and preparing for the future by being the right person.

Download entire page and pages related to it in ZIP format


Table of Contents


Information


Tparents Home