| | | | |
| --- | --- | --- | --- |
| | The Words of the Yamamoto Family | | |

The Future of the Unification Movement in North America: New Generation Voices
Kenritsu Yamamoto, Marlo Starr
June 7, 2006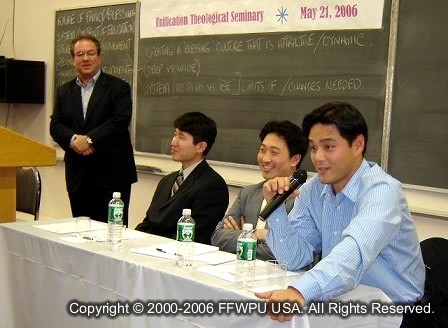 The symposium was held at Unification Theological Seminary on May 21, 2006. More than one hundred Second and First Generation participants gathered on a vibrant Sunday afternoon, filtering in from New York, Maryland, Massachusetts, New Jersey, Pennsylvania, and Connecticut.
Among many notable people in attendance were Jin Soo Kim (director, U.S. 2nd Generation Dept.), Kyoung Hyo Kim (director, World CARP Human Resources), In Guk Seo (head of Blessing Office, U.S. 2nd Generation Dept.), and Kazushi Mito (president, World CARP USA).
According to Ritz Yamamoto, a member of the Symposium organization committee, the intent of this event was to be a "brainstorming session." He explained that the idea originally came from a UTS cabinet meeting, with Dr. Michael Mickler's question, "Instead of having the older generation plan for what the Second Generation should be doing in the future, why don't we let the Second Generation share what they see as the future of the movement?"
Welcoming remarks were given to the rapidly overflowing room by UTS President Dr. Tyler Hendricks. World CARP Vice President Jin Man Kwak gave a poignant opening speech, saying that the key to the future is the cooperation of 1st and 2nd Generation, we are rooted in our past, and the road to the future is a two-way street.
Rev. Phillip D. Schanker, Vice President for Education and Public Affairs of the FFWPU moderated and emceed the event from beginning to end. A panel of six Second Generation speakers each presented their own vision for the future of our movement.
First to speak was Daniel Bessell, project manager for UPF/IIFWP for the past 8 years and also National leader of Guatemala. He urged the movement to stop being "reactive" and merely responding to leaders' orders. "We need to apply our own skills and apply our own abilities and do what we actually like to do… [to] proactively build this kingdom. Our original purpose was to change to status quo," he says, "and the future of our movement is the Family Church."
Next to present was the assistant to the President of FFWPU USA, Rev. Michael Jenkins, Tossa Cromwell. Tossa emphasized Father's direction to develop a "family-centered movement" rather than a "church-centered movement." He also stressed the crucial point of the unity of Blessed Families with God and True Family through Hoon Dok Hae.
This was followed by a personal testimony from the youth leader of New Jersey, Jin Kwon Kim, who is also a full-time architect for a Manhattan-based firm. He was not so involved with the church until he realized that the key to what we actually do is perspective. Jin talked about the success of the New Jersey DP Forums, where people can question and engage themselves with the DP. Parental involvement is the key to 2nd Generation faith, he says. We need to heal and hear the 1st Generation's amazing stories.
Jin Suh Park, a naturopathic physician and the coordinator of young adult ministry (college-age and above) for the West Rock region of New York, spoke from his experience counseling countless members of our movement. "People, 1st Gen and 2nd Gen are angry," he said, "and this leads to bad health. Why is there such anger and sickness in the movement? We have the 'do's' and the 'do not's,' which create fear. We should change from focusing on what we cannot do to what we CAN do. What we WILL do."
Finally, Naokimi Ushiroda, New York's regional CARP leader shared about his Blessing and relationship with his wife and the ideal of family. "I believe this is our end product," he said. The God-centered family is where we can learn to live for the sake of others. The challenge for 2nd Gen is to hold onto the 1st Gen's dream of an ideal family despite the fact that there are very few ideal families.
When the speeches finished, other participants had the opportunity to pose questions to the panel and also comment about the future of the movement. Some asked about the future of education, whether the focus should be doctrine or culture, while others wanted to discuss the need for healing resentment or "pulling weeds before planting seeds."
Q and A transitioned into a time for discussion in groups divided into topics of interest which came up during the event. Discussion topics included: "The future of the 'Church' as an organization," "Blessing and family," "Healing," and "Education of the youth." After some raucous meet and greet over snacks and coffee, there was an hour discussion resulting in a representative from each group giving a brief synopsis of their talk.
Swaying in a near delirium, Ritz stood at the podium to make the closing statement. "The door has been opened a mere crack, and we have gotten a look at what the weather is like outside." New thoughts were stimulated regarding the future, and the organizers hope this will open up further dialogue and action around ideas and possibilities for the Unification movement.
You are invited to see a short video about UTS Sports and Culture Festival and Symposium at www.xanga.com/YOKrecruiter.

Download entire page and pages related to it in ZIP format


Table of Contents


Information


Tparents Home