| | |
| --- | --- |
| | The Words Of The Wilding Family |
Celebrating the Colors of Peace
Alan Wilding
August 24, 2009
UPF-Canada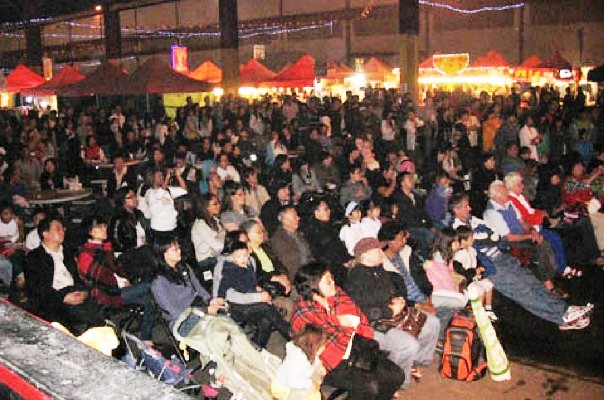 Richmond, British Columbia, Canada - The Universal Peace Federation of Western Canada put together a celebration of peace which simultaneously promoted the goals of UPF and helped the Richmond, BC community celebrate the diverse multicultural nature of Canada and the many traditions represented in the greater Vancouver area. The theme of the August 21 festival was, "Celebrating the Colors of Peace." The program was led by Mr. Alan Wilding, director of UPF-Western Canada, and Mr. Paul Cheung, CEO of Lions Communications Inc. and organizer of the popular Richmond Summer Night market.
The evening program was a celebration of peace through interfaith co-operation, music, dance, community service recognition awards, appointment of new Ambassadors for Peace, peace messages, and exciting video presentations.
Alan Wilding served as master of ceremonies throughout the evening with the help of Annie Wong, who acted as Chinese hostess and translator. After singing of the national anthem, the mission, principles, and objectives of UPF were outlined by Alan Wilding.
Hon. Dr. Alice Wong, Member of Parliament, gave a special greeting on behalf of the Government of Canada. This was followed by a greeting from Councilor Bill McNulty and an interfaith peace message from Katsumi Kambashi, President of the Family Federation of Canada.
The entertainment for the evening was colorful and International. The audience was treated to a video review of the Global Peace Festival worldwide. After this, Gypsy of India, "Baukishan," performed his unique repertoire of soulful spiritual chants. This was followed by a beautiful Balinese dancer who performed a traditional Welcome Dance. A Malaysian dance and a classical Chinese dance number were then followed by a Pilipino youth group who delighted the audience with a Bamboo dance and an energetic hip-hop number.
Community service awards were presented to Dr. Helena Duchowska, MD, who has served the Richmond community for over 35 years. Awards were also given to the Richmond Firefighters and the Habitat for Humanity for their service to the community and their volunteer work in South and Central America. The Tzu Chi Foundation, a Buddhist charity, was honored for their continuous service to the community. After an entertainment break, six new Ambassadors for Peace received appointments.
UPF-Canada wishes to thank Mr. Alan Wilding and Mr. Paul Cheung for their generous and complete sponsorship of this entire event.