| | | | |
| --- | --- | --- | --- |
| | The Words of the Townsend Family | | |

24-Hour Extreme Movie-Making Workshop at BAFC!
Theo Townsend
March 27, 2006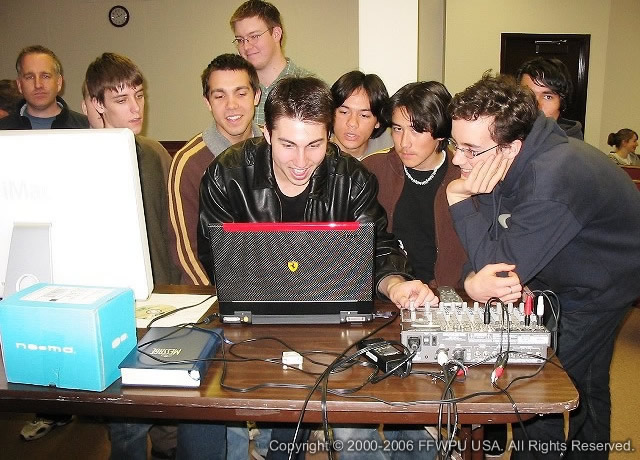 On March 17-18, thirty BCs participated in a 24-hour extreme movie-making workshop at the Bay Area Family Church. The workshop was staffed by multi-media fanatics Ted Allen, Eric Scharf, Josiah Larson and Theo Townsend.
The workshop started Friday night with a viewing of the classic movie Yojimbo by Akira Kurosawa. After morning service and breakfast the next day, three presentations were made. Theo Townsend covered the basics of shots, angles, movement, and composition. Eric Scharf made a presentation about the importance of content, and how the quality of artistic expression is linked to the quality of the artists' spiritual life. Ted Allen demonstrated practical applications including the importance of sound, use of color, and advanced post-production techniques.
Right before lunch, all participants were divided into five groups for a movie-making challenge. Each team had to meet, plan, shoot, and edit a five-minute movie by 7:30 pm that evening.
After meeting over lunch to plan, the teams began shooting video. Some stayed at BAFC using various rooms and offices. Some went downtown to shoot exterior footage. One group even shot their entire movie at a nearby bus stop.
After shooting came editing and post-production using computer workstations scattered all around the dining room at BAFC. As the afternoon went on, each team imported their shots and began to edit, add titles and music, and create special effects.
After a pizza dinner and many last-minute adjustments, everyone met in the sanctuary with friends and parents for the competition. Josiah Larson showed some of the video projects he has been working on, including a cloning experiment with his brother and some animated golf clubs (you had to see it to believe it).
The movie made by each group was shown, and each participant had a chance to vote for their favorite – the winning team received a cash prize!
The workshop ended group photos and cheers of Mansei. Plans are already underway for the next workshop at the end of April. Hope to see you there.


Download entire page and pages related to it in ZIP format


Table of Contents


Information


Tparents Home