| | |
| --- | --- |
| | The Words of the Taupier Family |
Blessing Testimony
Nina Taupier
February 1, 2009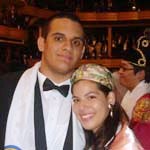 I'm 18 yrs old Nina Taupier. I'm half French, half Japanese and I live on the tiny beautiful island of St. Lucia in the Caribbean. I am truly grateful and honored to have been matched and blessed by True Parents so I thought the least I could do is share my joy and heart with all my brothers and sisters around the world. I was recently matched to Aaron Urbonya, an American brother from Michigan. His father is Yugoslavian-Swiss and his mother is African-American and Native-American, so I think we make a pretty international couple!
The Blessing was an unforgettable evening! True Father asked us couples to wear the national costume if possible so I decided to wear St. Lucia's national wear. My parents have been pioneering as national messiahs in St. Lucia for 11 years so they were so happy to have me represent St. Lucia at the Blessing. I felt utmost honor being the only person representing St. Lucia, an island which Heavenly Father loves very much and has deeply cared for. I was very grateful to be chosen to sit in the front row and to be able to go on stage to receive holy water directly from True Parents. I truly felt that it was a precious blessing from God thanking us for pioneering in St. Lucia. Receiving the holy water was a very magical moment for me
I felt the preciousness of the moment, I was so happy but at the same time I felt deep gratitude towards our True Parents because I know they went through so much suffering and sacrifice so that we may receive the Blessing. Many times I feel like I cannot thank God and True Parents enough for giving me such a big blessing. I feel very humbled that I was able to receive this blessing despite the fact that I am still working towards perfection. That's why I am more committed than ever to build a true family to make Heavenly Father happy. I always feel like God is telling me "It's okay, I want you to receive this blessing so you can make a happy family and in turn make me very happy!" That's why I will do my best to making my matching successful to bring God lots of happiness and in that way, only begin to express my ever grateful heart for all He has done.
Seeing so many fellow 2nd generations, persons I had not seen in years and all of us getting blessed together at this Special 90th Birthday Blessing, was an experience I will never ever forget. I would like to thank my parents who have done a wonderful job raising me and who have shown me a great example of the happiness that the Blessing can bring!
Thank you In Jin Nim and all the True Children who worked so hard to prepare this special event!
Thank you Heavenly Father and True Parents for this wonderful Blessing! I promise to do my best!