| | | | |
| --- | --- | --- | --- |
| | The Words of the Taupier Family | | |

Fighting HIV/AIDS In St. Lucia Through Character Building
Remy Taupier
August 15, 2006
St. Lucia
Secretary General of UPF-St Lucia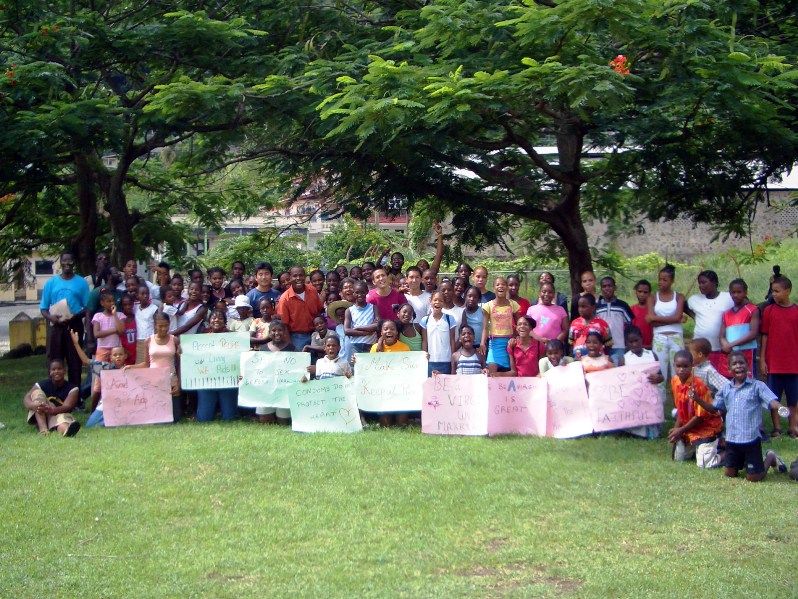 In July and August, UPF of St. Lucia convened three character education camps in three different locations of St Lucia. Ms. Fortuna Anthony-Husbands, an Ambassador for Peace, went to great lengths behind the scenes to set up these workshops. She is a teacher and principal, and has held the position of Chief Education Officer in the Ministry of Education. Due to her wealth of experience, she understands firsthand that St. Lucian youth need not only academic education but also character education.
With the help of other Ambassadors for Peace, Ms. Anthony Husbands was able to bring the following organizations together to make these camps possible:
The inter-regional Caribbean organization CARICOM, which gave most of the funds necessary to conduct these three workshops
The Ministry of Education of St. Lucia, which chose the youth recommended by the secondary schools' principals and the school counselors. They also offered the school facilities in which to conduct the camps
The St. Lucia Chapter of the Universal Peace Federation (UPF), which organized the schedule and content of the workshop and provided the core facilitators The camps had an average of 80 youth participating in each camp, aged 11 to 17.
Every morning started with religious service and exercises in martial arts and self-defense.
Presentations were given on the following topics:
Happiness and Life Goals; Sex and Love
Marriage; The Benefits of Abstinence
Several sessions were taken from the new curriculum (K to 12) written by Universal Peace Federation: Discovering the Real Me (Grades 10 and 11), and from the Manual written by CARICOM: HIV/AIDS Life Skills The participants were divided into four discussion groups focusing on these topics. Usually, young St. Lucians do not discuss these issues at home or at school. Therefore, it was a unique opportunity for them to express their hearts, their worries, and their expectations. They were eager to participate in the discussions.
Afternoons were reserved for art (scratch art, drawing, origami, drama) and community service projects.
During the camps, several Ambassadors for Peace came to show their support and address the students on various subjects such as domestic violence, the danger of pornography, the key role of the father at home, and the importance of the family.
The goal of these workshops was to give a vision to each boy and girl of the kinds of right decisions they need to make in order to find happiness in their lives.
Each camp included at least half a day of community service. During the first camp, the participants cleaned and brushed the walls of the classes to prepare them for a fresh coat of paint. In the second camp, participants prepared placards and marched through the town to remind people of the benefits of abstinence. In the third camp, they cleaned the desks and painted each blackboard with a new coat of paint.
Ms. Remise Anthony, Ambassador of Peace and principal of Micoud Secondary School, where the third workshop was held, said: "It was a very timely workshop. We need to engage children in constructive thinking. Character education is very necessary, and it has been neglected too long. Through the discussion, the young people could express and speak out, and then we could give advice."
Mr. Dwight Augustin, Abstinence Educator at Heritage Keeper and a role model for the students, said: "It was a very good initiative. We addressed exactly the issues that young people have to deal with. Students were hungry for information, and they were so eager to discuss. These workshops fulfilled a great need and should be an ongoing thing every year."
Two young American men and one young Korean man, children of Ambassadors for Peace, came to help and added an international spirit to these camps. They participated in discussions, played basketball during lunch time and directed the art sessions in the afternoon. They served as good role models for the boys, in particular. St. Lucia desperately needs such role models to help our youth.
At the end of each camp, participants reflected on the camps. Some of their testimonies were: "It has helped me a lot to choose the best way to succeed in my life." "Now I feel more confident that I can make it." "I wish my parents would hear this. They need it as much as I do." "Thank you very much for taking your time with us. Please come again. We need this so much."
After the closing ceremony, the participants did not want to leave, and many could not hold back their tears.
These three camps gave the St. Lucian young people an opportunity to discuss and reflect upon the burning life issues that they have. I noticed a real craving to discuss topics related to sex and love. They are hungry for information and advice.
There is an urgent need for many more such camps throughout the country.


Download entire page and pages related to it in ZIP format


Table of Contents


Information


Tparents Home