| | | | |
| --- | --- | --- | --- |
| | The Words of the Smith Family | | |

Tea Ceremony Models Peace at UN
Karen Judd-Smith
September 26, 2006
UPF Director, Office of UN Relations
New York, United States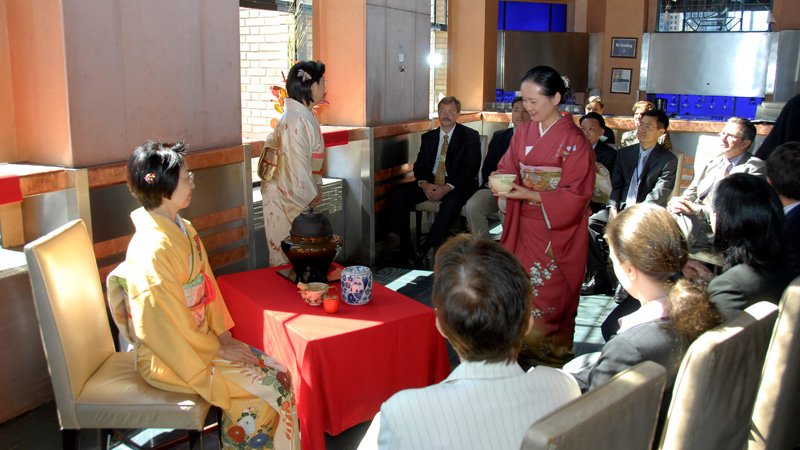 To commemorate the International Day of Peace 2006, the UN Relations Department of the Universal Peace Federation offered a Japanese Tea Ceremony to the international community at the UN.
With magnificent views of the East River backed by clear blue New York skies as seen from the 26th floor the Beekman Hotel, the tranquility sought in traditional ceremonies became an integral part of the September 21st lunchtime event.
The participants were transported to a traditional Japanese tea house by the warmth and peaceful ambience brought by the Japanese volunteers. As it appropriate to the ceremony, group that included UN Secretariat personnel, NGO representatives and UN diplomats from Argentina, Belgium, Cambodia, Dominican Republic, El Salvador, Estonia, Greece, Republic of Korea, Russian Federation and San Marino, left their posts and responsibilities "outside" and spent time together over a very special cup of tea.
Mrs. Fumie Watanabe, the more than 20 years experienced Tea Master, performed the ceremony both skillfully and wholeheartedly. The MC for the event, Mrs. Kyoko Sato, guided the audience throughout the ceremony explaining the history, meaning and depth of it in a very touching way.
Among other things, the present learned about the spirit of love and living for the sake of others through the Japanese expression "Ichigo Ichie" that could be translated as "once-in-a-lifetime meeting". It explains the heart and incredible investment put into the ceremony to serve a cup of tea like it were the only time one will ever see that person in a lifetime.
The ceremony concluded with the interpretation of the song "Maple leaves", that perfectly matched the crispy autumn afternoon. Immediately after, a succulent sample of Japanese cuisine was served for the delighted of everyone's palate.
The altruistic dedication and love expressed by the beautiful Japanese volunteers through this very meaningful ceremony will surely live in the memory of those in attendance for a long time to come.
No wonder the event has become a spontaneous recommendation among the UN diplomatic corps!


Download entire page and pages related to it in ZIP format


Table of Contents


Information


Tparents Home