| | | | |
| --- | --- | --- | --- |
| | The Words of the Saunders Family | | |

St. Vincent & the Grenadines Focus on Education
Alan Saunders
May 4, 2006
Director Character Education, UPF-International
St. Vincent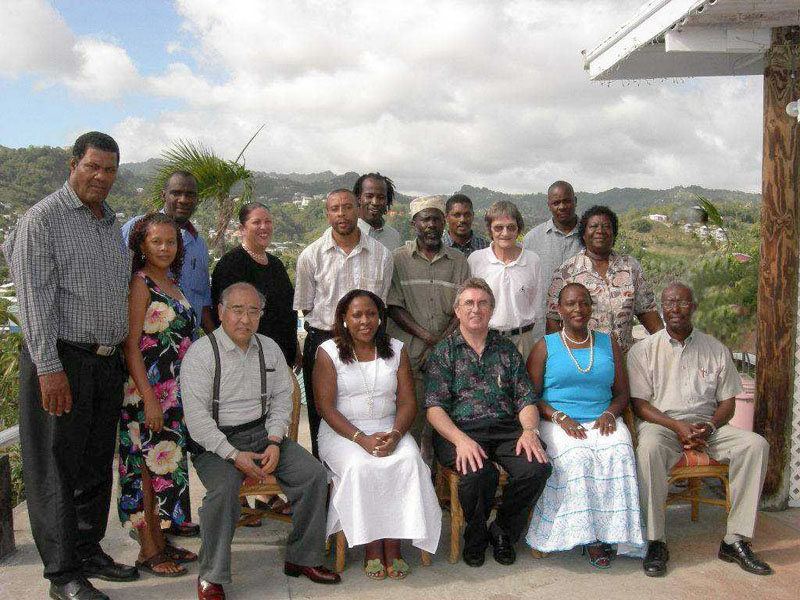 Seminar Participants with Mr. Alan Saunders (bottom, 3rd from the right) Ambassadors for Peace of St. Vincent & the Grenadines participated in a three-day seminar at the Villa Lodge Hotel from April 22-24. Twelve Ambassadors for Peace were invited, but other persons called and asked to attend, bringing the total to twenty-four participants.
Presenters at this seminar included K. Watanabe of Japan, Peter Phillips of Barbados, and Alan Saunders of Australia/USA.
K. Watanabe, a retired professor of theology in Japan, lectures throughout the world for the Universal Peace Federation. His presentation on philosophical topics such as human desires and the nature of happiness generated much discussion among participants; in particular, the topic of internal satisfaction generated exceptionally diverse ideas.
Peter Phillips, a specialist in family education, lectures and counsels families in the Caribbean, Europe and the Americas. His presentation explored archetypes of the family as a way to understanding the challenges people face in their families. Participants offered various interpretations of the issues he raised, leading to lively discussion.
Alan Saunders, Director of the Office of HIV/AIDS Prevention and Character Education for the Universal Peace Federation, has traveled extensively in many countries around the world. He spoke about goals of life: becoming a person of mature character, building healthy relationships and a loving family, and making a positive contribution to society by building strong and vibrant communities.
This seminar will enhance the ongoing focus by Ambassadors for Peace in this Caribbean nation on character education and family values. During the seminar five new Ambassadors for Peace were presented with diplomas, bringing the number to 63 Ambassadors for Peace in St. Vincent & the Grenadines.
The seminar was coordinated by Kay Bacchus-Browne and Dawn Bacchus-Vick, local directors of the Women's Federation for World Peace and the Universal Peace Federation, assisted by Masayo Endow of Japan.


Download entire page and pages related to it in ZIP format


Table of Contents


Copyright Information


Tparents Home