| | |
| --- | --- |
| | The Words of the Santelli Family |
Starting with Chapter One -- Interview with Hiram
D. Santelli
June 2011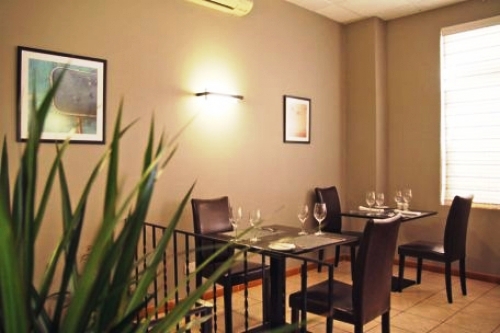 In May of 2010, Chapter One opened its doors on the tiny island of Malta (think further south than Sicily, more north than the coast of Africa) in the middle of the Mediterranean Sea. In less than one year, the restaurant has risen to the top of Tripadvisor.com as the number one restaurant in Malta by reviewers and has been featured in a host of magazines and newspapers. The restaurant, despite being a huge accomplishment in and of itself is, according to second generation Unificationist chef Hiram, only the first step in a much bigger plan for himself Despite his long hours and busy schedule, he managed to give us an interview and tell us a little bit about life as a chef and his new restaurant, Chapter One.
Question: Tell us a bit about yourself.
Answer: I'm 24 years old, half Maltese, half Japanese and the first of four siblings. I have a brother and two sisters. I was born and raised in Malta so naturally I speak Maltese and English. My wife Honorine is French and Japanese, so I can speak French now too.
Question: When did you decide you wanted to be a chef?
Answer: I wanted to be a chef for quite a while, since I guess around the age of sixteen. I was always quite fussy about food though, and I always had a deep appreciation for good food. Cooking was always an interest of mine, but I was never really encouraged to go this path. It wasn't until I came back from two years abroad doing service work with an organization called Special Task Force Europe that I decided to just go for it.
Question: Where did you get your training?
Answer: I studied in Malta first at a school for tourism. You can study anything hospitality related there -- hotel management, culinary arts, etc. Then I spent some time training at other restaurants in Malta and, finally, I worked in a Michelin Star restaurant in France. That was a great experience for me to learn not only about cooking, but perseverance and discipline.
Question: Why the name Chapter One?
Answer: Well, I consider this restaurant to be my first venture, my first step, hence Chapter One.
Question: Does that mean we will see a Chapter Two eventually?
Answer: Chapter One café or bistro, but I don't know. The restaurant has been a big financial step; it's only a small restaurant but it required some 50,000 Euros to open it and expenses can be a big headache when you're first starting out. Luckily, we're doing surprisingly okay for our first year. It usually takes restaurants a couple of years to get the word around.
Question: Did you expect it to be as big of a hit as it has been?
Answer: Not really. I knew I had something to offer, but I didn't know that people would be that impressed. There has been a lot of positive feedback from people, some not so positive of course, but on the whole it's been good.
Question: I read that Chapter One is a family business.
Answer: My brother and sister are both studying so they help out when they can. My father is an accountant and so he helps out with the accounts of the business as well. My mom is a tour guide, and so she has lots of connections bringing in Japanese tourists.
Question: What's it like working with family?
Answer: It's good because you can trust them. Practical as well because you have more flexibility and you can sometimes ask them to do a little bit more than someone who is just another employee.
Question: Can you tell me what a normal day is like for someone who runs their own restaurant?
Answer: On a busy day I would start by shopping, making orders and picking up deliveries and so on. I usually start preparing around noontime for dinner. It takes around six hours before the restaurant even opens. I mean if it's a quiet day, then the next day I don't have as much to do. Service starts around seven and the last orders are usually taken at ten o'clock, but people in our restaurant like to take their time. If someone makes a reservation at nine they can stay until midnight. So we usually close anywhere from 11:30 pm -12:00 am.
Question: What is the most difficult part of being a chef?
Answer: Definitely the hours.
Question: The most enjoyable?
Answer: The creative part. Working with food and making dishes that people enjoy. It feels good at the end of the day because I organize everything and I am responsible to get things done. The whole restaurant depends on me. I need staff, obviously, and waiters and so on, but it's up to me and I like that feeling in some ways. Of course in other ways sometimes it feels like too much pressure.
Question: Do you think it will get easier with time?
Answer: Yes. Right now I work alone and have only a dishwasher helping me. But in the future I want to get a chef and then things will run more smoothly, I think.
Question: What inspires you about food or the culture of eating?
Answer: Eating is one of the biggest pleasures in life and I like being a part of that experience for people. Also, I think my love for food stems from my love for nature. People who are Chefs usually 'tend to like fishing and hunting and spending time in the outdoors. To work and appreciate produce, that's the main thing for a chef. In my opinion, it's the foundation of cooking, because technique and all that comes later.
Question: Where do you want to go next?
Answer: I'm always looking to expand and I have always thought of living abroad, so I hope my next venture might take me outside of Malta. The opportunity came here so I took it, but I don't plan to settle and live my whole life around this restaurant. When it takes off and I bring in a good deal of profit, I will run the business without actually working or maybe I will sell it. We'll see.
Question: As a chef, what's your favorite meal to eat?
Answer: Depends on my mood, but usually when I cook for myself, I cook very simply, just grill and eat. I don't like to use too many sauces. My favorite thing to eat is simply cooked fresh fish or beef or raw sea food. For the restaurant though, I have to dress it up a bit, you know with your classic red wine sauce, etc. because that's what people expect when they go to a restaurant.
Question: Being 24, do you feel you are above the wave somehow? Is it normal for someone your age to have his own restaurant?
Answer: I know of people who have been in this industry for a long time who haven't had the opportunities I've had. But it also takes courage to take this step, and so I do feel very lucky. Being so young, many people might be against it and say I need more training, but I would say to them, I am being trained in my own way. I get my own training from running this restaurant day to day successfully and I'm always staying up to date, reading books and expanding my training. I'm looking to do a stage -- it's a French term, which means I would go for a week, unpaid, to see how they run a restaurant where people pay 300 Euros for a meal. See how the service is done and what different techniques and materials they use there. My training is definitely not finished yet.
Question: Any advice for someone who is looking to be where you are?
Answer: It's all about the passion. It has to be there first inside of you -- then everything else comes later. If it's not there, the results won't be the same.
For more information on Chapter One, you can check out their website at:
www.chaptempemaka.com or look for it on Facebook.