| | |
| --- | --- |
| | The Words of the Rondon Family |
National Leadership Conference in Asunción
F. Aristides Rondán M.
April 7, 2011
UPF-Paraguay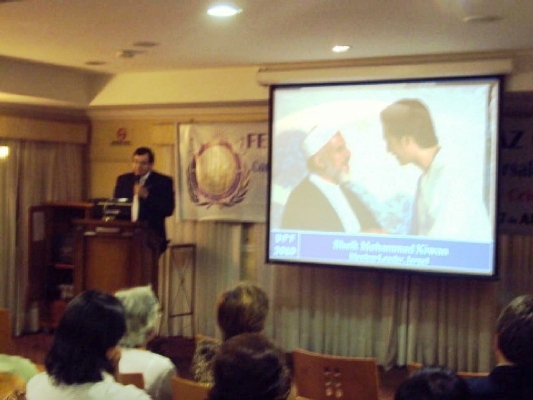 Asunción, Paraguay -- Members of the Governing Board of UPF-Paraguay convened a National Leadership Conference at the Hotel Villa Morra Suites of Asuncion on April 7. The theme was "Universal Principles for Peace."
Ambassadors for Peace appointed in the name of UPF Founder Rev. Sun Myung Moon received new inspiration and pledged to invest their intellectual and professional capabilities to develop UPF in Paraguay.
The 43 participants included Dr. Humberto Sandoval, Dr. Luciano Marin, Father Rafael Ruiz Gaona, Maria Gloria Baez from the Ministry of Women, and Dr. Cesar Granada, dean of the Universidad NJMA. Special thanks was given to Professor Rosa Aguiar of the Federation of International Education for joining the staff.
The invocation and opening presentation was given by the President of the Family Federation on "The Role of Religion in Moral Education." The President of UPF-Paraguay then spoke on the theme of "Universal Principles and the Real Problems" based on the Principle of Creation. At the end of the event, new Ambassadors for Peace were appointed, and each received a copy of Rev. Moon's autobiography.