| | | | |
| --- | --- | --- | --- |
| | The Words of the Rivera Family | | |

Matching Testimony Of Pablo Rivera and Mika Onodera
Mrs. David Phelps
November 6, 2004
Testimony from Pablo's mother.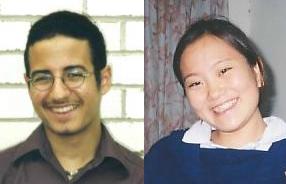 Pablo first asked me to start looking for a match for him two years ago. I didnít want to be limited to just the people I knew, so I put him on the website, at the same time urging him to become an "official" candidate by fulfilling the purity interview with the regional director.
Since he is interracial (black and white), Pablo stipulated from the beginning that he wanted an Asian match. True Father has been stressing international, interracial marriages, so I started looking on the international matching website too, but hoped I could find someone who could speak English. Pablo also felt that he needed someone more outgoing than he is.
Every time Jim Stephens sent out a notice that a new sister was added, I would check the website. Usually the sister wasnít the right age or just didnít feel right. I kept praying for guidance. When I went to Chung Pyung for the 40-day wives workshop in March, my intention was to do a 40-day prayer condition there. But after a day or two, I felt God was telling me, in essence, "Look, I know Pablo needs to be matched. Be patient and stop nagging me."
On the day Mikaís information was posted on the website, I was drawn to her by several factors. On the external level, she was Japanese (Asian), around the same age, spoke English. There were a few points of common interest (loving animals, psychology). I was impressed by her statement of faith and desire to make a four-position foundation.
Basically, I feel if a couple makes a strong commitment to the Blessing and has strong faith in God and True Parents, that will see them through the inevitable ups and downs of their relationship.
Pablo had basically told me he would accept anyone I chose, so I approached the Onoderas with an email without consulting him. When I did tell him, after the Onoderas accepted him, he only asked why I felt it was a good match. I told him. But after the parents had agreed and the two started emailing each other, he told me he thought it was a "match made in heaven."


Download entire page and pages related to it in ZIP format


Table of Contents


Information


Tparents Home