| | |
| --- | --- |
| | The Words of the Read Family |
Climbing the mountain in Nepal
Tim Read
March 29, 2011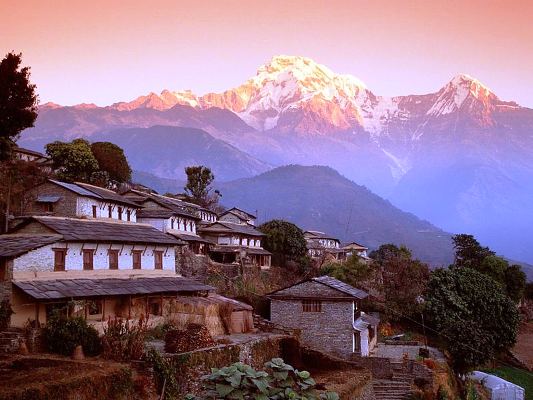 John and Ginger Nicholls have committed themselves to fulfill the National Messiah mission in Nepal for the last 15 years. They have sacrificed everything to try to fulfill this mission, including their nations, family, mental and physical health, and investment in their own financial foundation for the future.
Living in Nepal is a great challenge with the extreme lack of infrastructure and development -- even in the capital city. They own no home or property and have spent more than $50,000 over the years from the money they earned each time they returned to England managing (while living in) hotels for the homeless which included cleaning toilets, kitchens and personal rooms of ex-offenders, mentally disturbed, drug and alcohol addicts and others.
Ginger takes up the story of their work in late 2007:
"Returning to Nepal after a recovery period in the UK, elections took place 8 days after we arrived but the exciting news was that the Nepal Family Party had been registered just two months previous and Unification members were going at full force to seek the election of their candidates. A miracle took place that month. We never really believed that NFP could win a seat but everyone knew it would be good experience in foundation laying. However, at the last moment, several weeks after the election, it was announced that the last seat of the new Constituent Assembly went to the NFP and would be filled by the National Leader of the Unification Movement in Nepal, Eknath Dhakal, someone we had met in the first year of our mission during his first 7 day seminar. " "Now, almost 3 years on, there have been more steps of progress that have given us clear hope and inspiration that Nepal truly can fulfill such a destiny to become the first nation to realize Cheon Il Guk. "
"Members around the world have all sung the holy song, "Unite Into One" over and over throughout the many years of our movement, and yet whoever thought that there might be significant meaning of uniting one nation in relation to 'lift the white cross on our banner high above Mt. Everest it waves'. Last year, a large banner for peace and reconciliation was placed at the top of Mt. Everest in Nepal by a Nepalese blessed member who had no previous mountain climbing experience and almost lost his life. It had been signed by True Parents, Hyun Jin Nim and Hyung Jin Nim, 12 Korean regional leaders, the Prime Minister (at that time) of Nepal, and the leaders of all of the political parties in Nepal, religious leaders and Nepalese Unification leaders."
"Also last year we held 3 major 7 day ODP seminars with a total of almost 1000 participants and by the end of the year, a 12 day series of ODP content had been televised live twice on national television and the third televised ODP took place last month in January. "
"The roads here are very bad (even in the capital city), the pollution is extreme, and driving can be very dangerous. In the past we used public transportation and taxis. In order to get around, we have been using a 30 year old church car for 2 ½ years that doesn't have power steering. The engine stalls constantly despite efforts to repair it. No air conditioning and even the heater doesn't work properly. It is dangerous enough to drive in Kathmandu because traffic rules are not followed. Motorcycles continuously swarm through the streets cutting in front of the car from either side without warning, and with the engine cutting out each time we slow down, it can be horrendous. If the traffic doesn't kill us, the stress surely will!"
"We are trying to stay for at least 2 more years to assist the Nepal Providence to realize Cheon Il Guk by 2013. We are the only elder Blessed couple living in Nepal concentrating fully on the Nepal Providence and especially Nepal Church. "
"However, the time has come that we cannot afford to stay any longer in Nepal (where we cannot earn money) without asking for outside help. Without wanting to be a burden to anyone, we humbly ask our world-wide membership centering on USA and Europe for any financial support that you can give. (I am American, my husband is English). Please consider that it would give you a chance to join the efforts in Nepal to establish Cheon Il Guk by 2013."
[Ed: John has been suffering with severe esophageal reflux, throat and asthma problems for several years, and Ginger has had osteoarthritis of the spine for 25 years, bringing them very difficult physical challenges to overcome. They need about $600 a month to live on plus $600 annual visa and $3600 airfare once a year to return to England -- mainly for immigration purposes to keep Ginger's residency in England. If money could be found for a better car, or at least to get a reconditioned engine for the old one, they would be happy, as they cannot walk far due to their health problems. Donations can be made by logging in to Paypal at https://www.paypal.co.uk/uk and paying to this email: jongin2uk@yahoo.com ]