| | |
| --- | --- |
| | The Words of the Read Family |
CARP Service with Mrs. Yong Cheol Song
Samuel Read
December 8, 2010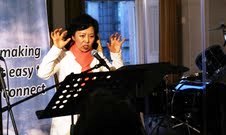 Our second CARP service of the year commenced on the 28th November in Lancaster Gate, with brothers and sisters attending from all over London and beyond (around 70 in total). The days have been growing colder, frost has started to settle and our scarves and gloves have become regulars in our wardrobes. However, upon entering Lancaster Gate, a warm and cozy atmosphere greets you, with the smell of hot chocolate and cakes on the air. Yes that's right, the new coffee bar was up and running that Sunday, and seemed to be attracting a lot of attention. People ate their slices of Pantone whilst chatting to familiar faces, sharing the past busy month.
As everyone congregated upstairs in the ballroom, we began as usual with a round of energetic songs from the music ministry, including the Friends theme "I'll be there for you" which I'm sure brought a smile to everyone's face. We were lucky enough to have Mrs. Song, one half of our continental leadership couple, give the sermon this month. In essence she conveyed a message about reconnecting with God. Following on from one of the readings, the beautiful psalm 23 "The Lord is my shepherd..", she began telling the story of King David who despite his short comings always kept God close to his heart, allowing God to be his shepherd guiding him throughout his life. She encouraged us to do the same emphasizing the role of True Parents and our own parents in helping us do that. There was also a short question and answer session at the end of the service about the current situation of our movement, which I'm sure was a valuable insight for all those present.
Mrs. Song brought with her a lot of heart, and talked to us in a direct and relatable way which I'm sure everyone could gain from. We would like to thank Mrs. Song for her sincere and heartfelt communication, expressing a deep parental heart that could encourage and reassure us all. I hope for this next month we can as always try to put into practice what we've heard, and end 2010 in a fulfilling way.
The next service will be on the 30th of January 2011, and we look forward to seeing you there!