| | |
| --- | --- |
| | The Words of the Porter Family |
Canada at the Crossroad
Martin Porter and Barbara Christie-Peat
March 15, 1983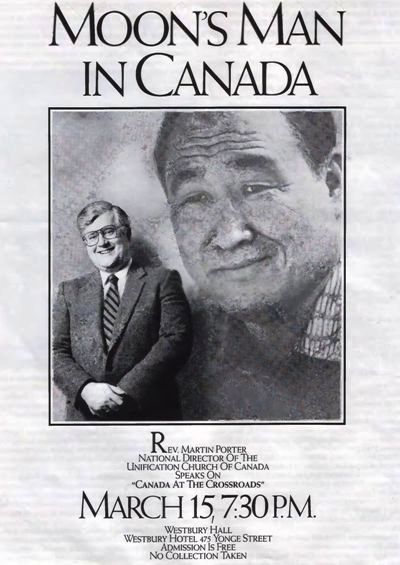 On March 15, 1983, Rev. Martin Porter, national leader of Canada, and a team of 20 members finished a yearlong campaign of seven major Canadian cities. The public presentation "Canada at the Crossroads" featured a specially developed slide show interpreting Canadian history and a speech by Rev. Porter, introducing the key points of Principle and showing how they tie into Canadian history.
The Principle was introduced into Canada in 1968 by two American schoolteachers: Marie Ang and Linna Rapkins. Rev. Porter has been national leader since 1977. Born in England, Rev. Porter has long been interested in visual communications; he spent some years travelling in Europe and the Middle East, compiling a portfolio of documentary photographs. In 1961 he went to Italy to study sociology and later film making. While producing a documentary on a hospital for child victims of polio, he became deeply affected by the hopelessness and suffering of the children and could not help wondering who was responsible for such suffering -- God or man. A friend then invited him to an evening of lectures about "a new revelation by a Korea visionary." Later, Rev. Porter became national director of our family in Italy.
The following excerpts of Rev. Porter's speech highlight Canada's religious heritage.
There is no place more inhospitable to man...," John Cabot was quoted to have said when he first saw Newfoundland's forbidding shores. Only individuals of the greatest perseverance and adventurous nature could break the new ground in a land so diverse and overwhelmingly vast as Canada. From whatever culture they came and for whatever motives -- whether to gather wealth in furs for the greater sovereign powers that sent them, or to colonize and farm a new land, or people such as Jean Mance and the Jesuit Fathers, motivated by higher aspirations -- the endurance, courage, determination, hard work and faith in the future were strengths which they shared in common and which became the backbone of Canada's heritage. Out of these edifying characteristics consistent throughout Canadian history grew a desire for unity, independence, and higher resolve in the people, to let the common bonds tie them and form a free nation from sea to sea....
In Canadian history, too, many men and women were motivated by God to sacrifice their lives toward higher goals to build a society and communities based on Christian ethics. Samuel de Champlain had the virtuous desire to build a settlement in New France where the Indians would be treated as equals. He died without reward, but the colony took root and survived, and his legend grew with it. The Jesuit Fathers founded St. Marie-among-the-Hurons in the early 1600's. Their heroic efforts reflected the same spirit of early Christianity during the days of Roman persecution. So zealous and hopeful were these men of God that their writings ignited a compassionate response from priests and laymen in Europe. As a result, Paul de Maisoneuve and his company sailed to New France with the vision to establish a community in the service of God. In the West, we remember particularly Father Lacombe who was loved and respected for his major contribution as a peacemaker between the Cree and the Blackfoot Indians, and between the Indians and the Canadian Pacific Railway.
What is the definition of a patriot? A patriot is one who gives himself unselfishly for the benefit and wellbeing of the nation and for the welfare of his own countrymen. Lord Elgin surely was such a man. In an effort to break the barrier of resentments, after the rebellions he strove to indemnify people's losses and fought for Canada's self-government. These and countless other men and women who have fought for the benefit of others have influenced the framework of our society.
In Canada, as in many countries of the world, the pace of life is ever increasing. New discoveries are being produced at such a rate that in the last 50 years scientific development and materialistic philosophies have gradually outweighed the religious approach to ethics in day-to-day living.... Science and spirituality need a common denominator and must extend their range of research to include areas formerly thought beyond their limits. Recent books attest to efforts in this direction, such as Inner Spaces, written by Canadian professor Eisenberg, exploring through scientific methods the existence of extra-sensory perception and levels of consciousness....
Canada is not isolated from the forces of transition; it is in fact a microcosm of the world because of its cultural diversity. Those views of life based on humanism and those founded in religions and spirituality converge in our society. On the foundation of what we have understood from Jesus' message 2000 years ago, we have two important factors to continuously consider. One is that we must never become people who merely crave our own well-being, either as individuals, families, provinces or as a nation.
Threaded through Canadian history are men and women who have championed this direction, plus the countless volunteers who went off to two world wars, and those who are a part of peace-keeping forces today. Living for the benefit of others is the direction of God, and God is present wherever the tradition of sacrifice occurs; yet so few realize how close they are....
From this viewpoint, God's characteristics can be seen reflected in Canadian history through events acted upon by men and women whose aspirations and goals were to go beyond themselves. From bringing Christianity to the new world to striving for Confederation, the pursuit of progress and unity beyond racial, religious or economic barriers is the direction towards God.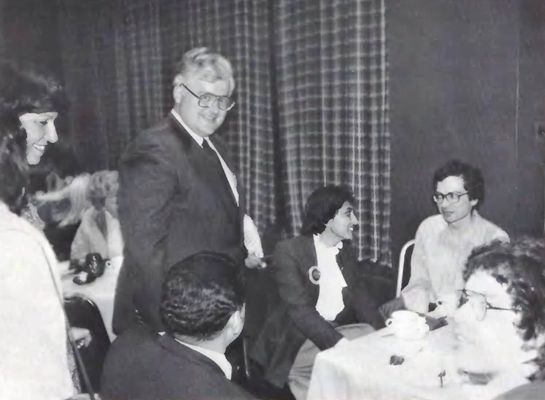 Reflections On A Cross-Country Tour
Barbara Christie-Peat
Greetings from the Great White North! Here in Canada, we are so close to the central point of the providence, but in a land
that is still in the process of emerging from her infancy. Unfortunately, that does not mean Canada is untainted by the social and moral confusion of our days that hinders the development of a God-centered nation.
Last March we began a seven-city "Canada at the Crossroads" campaign in Vancouver, British Colombia, the major city on Canada's west coast. The campaign concluded one year later, in Toronto, Ontario. During the intervening months (with a break for the Madison Square Garden Blessing), we visited Edmonton, Alberta; Halifax, Nova Scotia; Winnipeg, Manitoba; Ottawa, Ontario (the capital); and Montreal, Quebec. We wanted to make a national spiritual condition by reaching out to Canadians with the message of God's hope for Canada, following the pattern our Father set when he began his ministry in America with a seven-city speaking tour in 1972.
The culmination of the campaign in each city was a public event in which we offered Canadians a different perspective on their history -- a spiritual point of view, rather than political, economic or social.
Road of Challenge
An opening audio-visual presentation, "Road of Challenge," featured the noble men and women of Canadian history. We wanted people to feel that theirs was a history they could truly be proud of. In addition, our purpose was to present the Unificationist view of Canada's future and awaken people to the impact of future changes on this country. The message "Canada at the Crossroads," delivered by Rev. Porter, was meant to foster inter-religious and inter-cultural understanding and to challenge people to live those concepts.
The 20 members of the traveling team have faced many challenges and grown through our victories over the past year. We've grown collectively as well as individually. It is difficult to encapsulate the entirety of the experiences we shared on the tour, but here are a few of my impressions and experiences, culled from a year of milestones.
One of the greatest discoveries of this tour was Heavenly Father's heart for this majestic land. Driving across the country several times, I recognized the incredible blessings that God has granted our nation -- its breathtaking beauty, bountiful resources, and youthful vitality -- to help her develop into a nation capable of taking global responsibility.
I remember driving in the early morning dawn as my sisters slept and sharing with Heavenly Father the crimson sunrise over the shores of Lake Superior, or the magic of the northern lights as they danced overhead while thousands of miles passed under our wheels. In that solitude, I could know and feel God's incredible hope for the nation of Canada. My thoughts were often of our True Parents, realizing that our victories were actually much more their victories.
We discovered a unique character in each city we entered. Our approach to the public altered and shifted as we sought unity of mind and heart in reaching out to our fellow countrymen. As in any of life's experiences, we shared in our laughter, joy and tears as we fought for this nation's spiritual awakening. Sometimes we felt we were facing the lions' den, as the local news media played up our arrival with front-page headlines. But I could only find great pride in my brothers and sisters as they upheld the dignity of our True Parents.
Success In The Final City
I feel that the greatest success was in our final campaign in Toronto, a major city and the location of our national headquarters. Certainly we had grown through our experiences of the previous six cities. I was most inspired by our publicity campaign giving honor to our Father's dream and goal of a God-centered world. [The publicity for the campaign was prepared by a professional agency.] Our slogan, "Moon's Man in Canada," left no doubt as to who we were, and it proved to be most effective.
The culminating event on March 15 attracted a crowd that filled Westbury Hall. The message that Rev. Porter presented to the audience of 350, and the message that we will continue to proclaim, is simple but powerful. Rev. Porter concluded:
"Our crossroads today as individuals, families, provinces and a nation is the choice between isolationism and self-seeking living, or living for the benefit of the whole; whether to join the forces of humanism or to go in the direction of God and spirituality; and finally whether to consider the transformation we are going through as the beginning of the new millennium and fulfillment of Jesus' prophecy, or as simply a renaissance of science and technology."
Even though we were just a small "heavenly army," our hopes and ambitions were to remedy our nation's misguided direction. There were times when we felt disappointed by the public's response, but now we are confident that we have a foundation for future development, as we continue to nurture the seeds that have been planted by this campaign.
The members left behind to pioneer each city have the task of harvesting the fruits of our efforts. Our love and prayers remain with them as they uphold True Parents' tradition in this vast land.