| | | | |
| --- | --- | --- | --- |
| | The Words of the Poblete Family | | |

Showcasing an Ideal World through Visuals
Fahly Poblete
September 3, 2006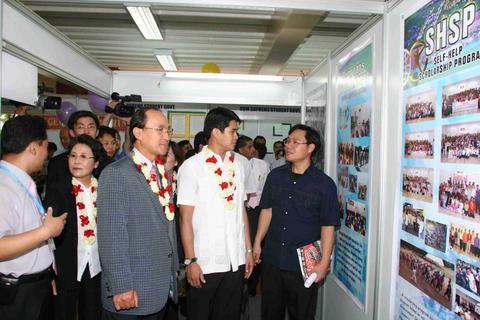 The Philippine World CARP President, Dr. Michael Zablan, shows the World CARP Philippine exhibit to the guest of honor and the Continental Director for Asia Dr. Christopher B. H. Kim as other youth leaders line up for their turn
Highlighting our youth's collective goals for world peace in the future, student and youth organizations set up exhibits at the Main Lobby of Universidad de Manila which welcomed more than 1300 students from around the globe last August 10, 2006 for the International Youth Expo.
To open the expo, a Ribbon Cutting Ceremony was held at the exhibit venue last August 10. Dignitaries present at the Ribbon Cutting Ceremony were Honorable Miles Roces, (Congressman for the Third District of Manila), Dr. Rodrigo Malunhao (President, Universidad de Manila) and Dr. Christopher B.H. Kim and Dr. Julia Kim (Continental Directors for Asia). Second part of the program then followed with entertainment from the talented students of Universidad de Manila.
Honorable Miles Roces, representing Manila City Mayor Lito Atienza that time had stressed about the youth's imperative role on peace building and national advancement as the leaders of tomorrow. He also affirmed that the younger generation must not anticipate for the elders to take ownership of our current tribulations but must take initiative in carrying the national burden as the prime movers and catalysts for change. Young student leaders then applauded as a signal of taking in the challenge. Some exhibitors were: Young Women's Christian Association, Manila Youth Bureau, Girl Scouts of the Philippines, Universidad de Manila Student Council, World CARP International, Youth Federation for World Peace and World CARP Philippines.
---
By Fahly Poblete
(Fahly is a World CARP student center leader, studying Administration at the Polytechnic University of the Philippines.)


Download entire page and pages related to it in ZIP format


Table of Contents


Information


Tparents Home