| | |
| --- | --- |
| | The Words of the Platt Family |
STF Serves In Peru - Part 2
Roland Platt
February 1, 2009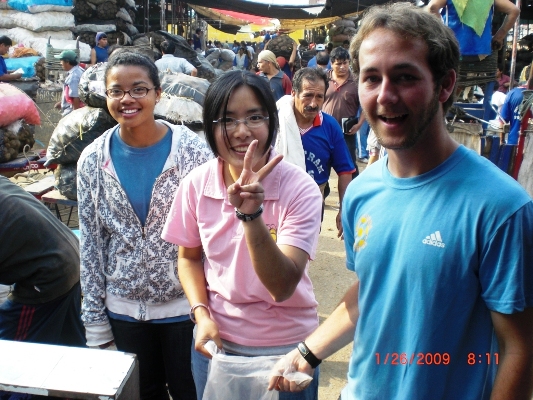 This reports follows the "First 3 days in Peru" - So much has happened since then that its hard to remember it all! But I will share some of the highlights.
Our 4th day in Peru was Saturday: after HDH we went to the beach to play soccer and prepare for the afternoon tournament, and spent the rest of the morning beautifying our Lima Church HQ. The HQ, which is also our home, is a nice property in "Miraflores", the elegant Colonial district area of Lima. Our service was mostly painting, varnishing…
The main event we were building up to that day was the soccer tournament where STF played against some high school kids teams from neighboring districts. A challenge for us: our team is pretty athletic but the kids have been playing soccer since they are 2 years old…The purpose of this tournament was to invite young people, and after bonding with them through sports give them a presentation on character education and an invitation to learn more about our movement.
The result: despite our practice, total investment and never give up spirit we lost…!
Another highlight of the day (9-11 pm) was the visit to the water fountain park. Lima is proud to have the #1 in the world combination of water / light / music / and laser show. For a mere $1 entrance fee you can participate in a breathtaking synchronized orchestra of fountains that dance to the sound of Beethoven or Kitaro.
I had never experienced anything quite like it and the artists/ technicians behind were able to evoke a wide range of feelings from awe to sheer excitement and fun. We ended up getting completely wet as we could not keep ourselves from running into the fountains (even we were not supposed to…) That whole experience culminated in a 30 min final show with famous musical parts and images of nature and historical Peru - truly uplifting for the human spirit which is designed to respond to True Beauty!
That Sunday the Service was dedicated to STF -- about 50 members from the Lima region attended it; the whole membership of Peru would have come if it were not for the difficulty (time and cost) to travel to the capital. We gave a brief history of STF, encouraged them to create junior STF in their country (more age appropriate), offered a song, a few testimonies and presented the STF video.
All in all it was a success and after a delicious lunch served in the backyard we were once again dancing with the locals…I was a bit surprised at first with these dances but the spirit is pure and its just part of their culture!
Monday and Tuesday we served a specially underprivileged area called Huyacan -- close to a million people live in shacks extending for miles on the rocky dusty mountainside around Lima. Peru suffered 2 decades of 'terrorism' (1980-2000) during which thousands of families fled from the countryside for protection in the city…the only land they could claim back then was a piece of desert hillside without water, road or electricity.
Our days started with 'food-raising' in the early morning right after HDH in the wholesale fruit and vegetable markets of Lima. That was a fun and unusual experience in itself -- going from stall to stall with crates and bags asking for produce donations to serve the poor people of Huyacan. After a thirty minute run we would return very excited with crates of unusual exotic fruits.
We later donated all the produces to "comedores" -- best translated as community kitchens, all named after Japanese missionaries who made a foundation in the country years ago. Besides that we served through painting a school and playing sports with them.
Our last two days in Peru were spent sightseeing, reflecting, gift shopping, eating "ceviche" (the most traditional Peruvian marinated raw fish dish), and of course we could not leave South America without a final dance party night!
All in all the whole experience was way beyond my expectation -- STF members' hearts grew deeply in the short time there, a large part because of their foundation of investing the past 5 months on the frontline. We also owe a lot to Francisco Cutiba, the national leader who dedicated every moment he was there to providing us with a powerful positive experience. He is very clear about outreach and witnessing being the main goal of every service that we offer. We are not here just to do good work and leave, but our primary mission is to create opportunities to educate people.
Everything was well prepared for us, all the staff of the HQ and Mrs. Burch were there to help us in any way. Contrary to people's expectations nothing was lost and no one got sick (besides one brother for one day). Thank you for all your prayers! I their reflections some brothers and sisters have already shared that they feel a calling to return some day to Peru.