| | |
| --- | --- |
| | The Words of the Phillips Family |
A Statement on the Tenth Anniversary of 9/11
Charles Phillips
September 10, 2011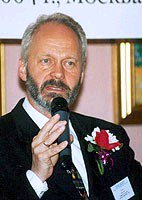 Charles Phillips
This week is a time for solemn remembrance of the terrorist attacks on September 11, 2001. We remember the victims and once again, we share in the grief of their families.
As we remember the horror and sadness with which we reacted to the events of that day, this is also an occasion to recall the expressions of unity and empathy that poured out from across the nation and the world. Those outpourings of support and sympathy served as a rebuke to the attackers and also as a reaffirmation of our continued belief in peace and in our common humanity.
In one of the darkest episodes in the history of America, there also were countless stories of people who stepped forward to serve, and to save, their fellow citizens. Many of them, particularly the firemen of New York City, gave their lives in that effort.
We will always remember 9/11 and Service For Peace has joined in the effort to mark this date each year with a national day of service. This week, our chapters around the country will be conducting projects involving volunteers who will step forward to serve their communities.
We remain committed to the vision of bringing together groups and individuals to advance our common goal of building secure and inclusive communities. We believe that this is the most appropriate way of remembering and honoring the victims of 9/11.