| | |
| --- | --- |
| | The Words of the Phillips Family |
Dramatic Developments In The Life Of Service For Peace
Charles Phillips
April 9, 2010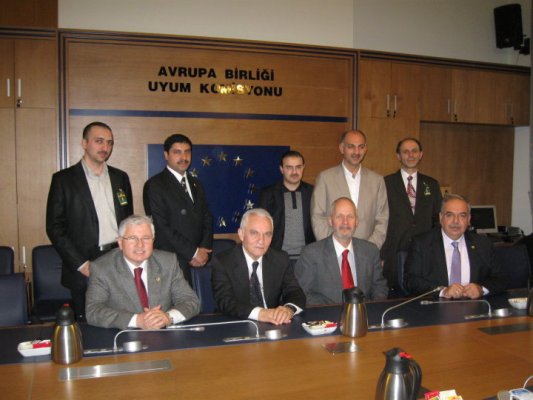 There's so much going on right now that I honestly don't know where to begin! However, before I bring you up to date on all of the recent dramatic developments in the life of Service For Peace, let me remind you to check out the SFP website www.serviceforpeace.org and be sure to take a look at the videos if you haven't already seen them. Our DreamCatcher Library program is really taking off in countries like Nepal where hundreds of war orphans and other children now have places where they can access books and even computers. And be sure to watch the video about our project in Little Haiti -- we will be conducting our seventh Summer of Service program there this summer.
If you feel moved to make a contribution, I can confidently assure you that right now, an investment in Service For Peace means direct support for programs that are directly and significantly impacting the lives of people in dire need. And we are expanding quickly!
I have just returned from Turkey where Service For Peace has received an overwhelming response. To give you just one indication of the level of enthusiasm, my visit was reported in more than 100 newspaper articles as well as TV coverage. This response is one more indication the growing respect that SFP is gaining throughout the world and how the vision of SFP resonates in the Moslem world. As you may know, concern for the needy is one of the pillars of Islam and Islamic nations and organizations love SFP's commitment to voluntary service, and especially the involvement of young people. Turkey is a historic meeting place of East and West and we have big plans for our work there.
SFP has received a similar response in Mindanao, Philippines where I conducted a series of seminars last month. As I mentioned in a previous letter, Mindanao is experiencing an ongoing conflict between Christians and Moslems and I was there to introduce a peace curriculum that has now been introduced into the schools. I first traveled to Marawi, popularly known as the Islamic City of Marawi. I delivered a lecture on leadership at Mindanao State University (MSU) as part of an ongoing lecture series on MSU campuses throughout Mindanao.
This was followed by our peace education summit with 40 high school teachers. Our local staff members have since followed up by developing and adapting the curriculum for Mindanao and holding teacher training seminars in other schools throughout Mindanao.
It is particularly significant that SFP is forging strong partnerships in the Muslim world. At a time when the Obama administration and others are concerned about the spread of Islamic extremism, SFP is not only improving the lives of young Moslems but also involving them in the direct, positive experience of working with others to improve their communities.
Meanwhile, our chapters in Miami and the Dominican Republic have been continuing to respond to the desperate need in Haiti. The DR chapter has conducted three relief projects since the earthquake hit and the community clinic in Jacmel, which we helped to establish last year, has become an important distribution center for the community.
I have so much more to tell you! Upon leaving Mindanao in late February, I traveled to Kathmandu, Nepal, where I visited our headquarters building that provides accommodations for orphans from the ongoing conflicts in addition to housing the SFP offices. We immediately set out on an eight-hour journey over unpaved roads through the mountains to Sarlahi where Saroj Khanal, SFP's Executive Director, is based. The headquarters in Sarlahi also houses orphans in addition to the SFP offices. We visited one of our libraries where the community held a welcoming festival. In the audience were two groups of women with identical saris. When I inquired about the uniform, I was informed that they were part of different literacy programs in our DreamCatcher Libraries. The women had created the uniforms on their own initiative since, as young girls, they had always dreamed of attending a school with a uniform.
Currently, with the support from the South Korean government, a new building is being developed for the library project. We also visited SFP's computer center where basic computer skills are provided to local citizens free of charge. I greeted 30 of the over 100 SFP Peace Volunteers before leaving to the next city, where we were again greeted by more than 100 SFP Peace Volunteers!
I know that in this economy, many of us have little extra to offer. All I can say is that if you ARE able to make a contribution right now, I can assure you with total conviction that you will be helping our proven, established programs -- like the DreamCatcher Libraries - to become even more effective and to reach even more young people in need.
Now, if you haven't visited the website in a while, please take a look at those videos.
Sincerely,
Charles Phillips
CEO
Service For Peace