| | |
| --- | --- |
| | The Words of the Panzer Family |
Richard Panzer Takes the Helm at Unification Theological Seminary
Douglas Burton
August 5, 2010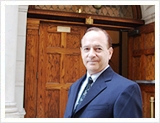 Dr. Richard A. Panzer, an author, director, educator and life-long Unificationist, was welcomed as the new President of the Unification Theological Seminary (UTS) by Rev. In Jin Moon at the UTS graduation ceremony on May 22, 2010. He brings to his position years of experience as a leader of abstinence-centered relationship education. He is the founder/director of the Center for Relationship Intelligence and has spoken to health educators, social workers, parents' and community groups all over the United States, and in Beijing, Antigua, Trinidad, Montreal, Toronto, Frankfurt, Istanbul, London, Paris, Prague, Seoul, Sydney, Okinawa, Osaka, and Tokyo.
Dr. Panzer is the author of several books, including The War on Intimacy: How Agenda-driven Sex Ed Sabotages Committed Relationships and Our Nation's Health, which was published in 2009 (www.TheWarOnIntimacy.com). He is also the scriptwriter/director of The Real Deal about Love, Relationships and Marriage, a DVD that has been used in the United States and around the world in relationship and marriage education for young adults (www.youtube.com/theRealDealDVD). Most recently, he was the lead writer for the musical, Imani: A Daughter's Story, which has been performed in the New York/New Jersey area (see Imani-Story-Musical on Facebook).
Second-Generation Valedictorians
Having joined the Unification Church in 1973, Dr. Panzer was in the third class of students to attend the newly formed Unification Theological Seminary in Barrytown, N.Y., graduating in 1979. He joined the Marriage Blessing at Madison Square Garden in 1982, and he and wife Miho Uchida, of Okayama, Japan, are the proud parents of four children, three of whom were valedictorians of their respective high schools in New Jersey and Connecticut.
"My main focus has been to translate the ideals of true love into a popular expression," he tells Familyfed.org., explaining further: "When I saw the education being offered to our young people in public schools, I was angry at how one-dimensional, demeaning, and insulting the education was to young people. I thought someone should engage young people in conversations about lasting-love relationships between men and women, so I aimed at making a curriculum for the public school system in New Jersey, which has now been used by schools, health departments and community organizations in 38 states and in 70 countries." Speaking to the potential of the rising generation of Unificationists, he says: "Our Unification community has a lot to offer in the public square, yet we sometimes hesitate to speak up. My aim is to train our youth to have confidence and expertise to stand up for their ideals in public life."
Dr. Panzer says he was surprised when Rev. In Jin Moon invited him to lead the seminary since he lacked any professional background in theological education, however he welcomed the opportunity to work with her inspiring goals to make a church that is relevant to a new generation and has shared in the essay below his vision for the seminary.