| | |
| --- | --- |
| | The Words of the Nicholls Family |
Interfaith Harmony Week Gathering in Kathmandu
John Nicholls
February 5, 2011
UPF -- Nepal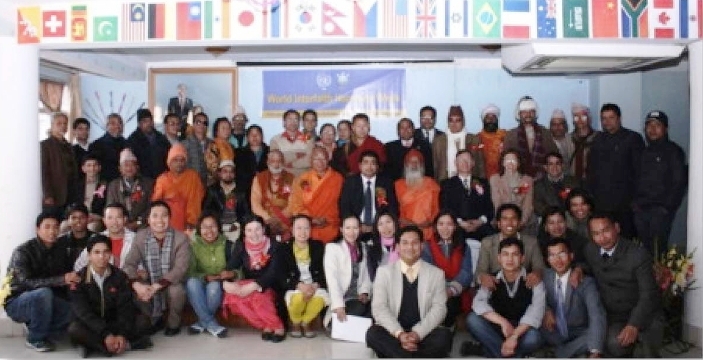 Kathmandu, Nepal -- UPF-Nepal organized a World Interfaith Harmony Week event at the Peace Embassy in Kathmandu on February 5. Mr. Keshav Chaulagain, Secretary General of the UPF-Nepal Interfaith Council, opened the meeting with welcoming remarks. This was followed by the presentation of UPF International's latest video, showing the extensive activities of Universal Peace Federation promoting a world of peace. Then, a beautiful piece of music was performed by Swami Chandresh from the Budhanilkantha Ashram.
Rev. John Nicholls, UPF International Advisor from England to Nepal, read an excerpt from the founder's address by the Rev. Dr. Sun Myung Moon. UPF International Advisor from Austria, Mrs. Theresia Kittel, read the message of the UN Secretary General.
Speakers from seven religious traditions offered their perspectives on interfaith harmony:
Ven. Kalsang Lama gave remarks on the occasion of World Interfaith Harmony Week; he is the president of the Buddha Dharma Buddhist Monastery in Swoyambu.
Appreciation for the occasion was voiced by the president of the National Council of Churches in Nepal, Rev. Pastor Simon Gurung.
A Hindu leader, Baba Damodar Gautam, expressed his hope for harmonious relationships among the religious communities in Nepal and the rest of the world; Baba Gautam is the president of the Hindu Federation of Nepal.
Imam Falahi Alaudin Ansari articulated his views about peace and harmony; he said that Islam's teaching is in accordance with peace, harmony, and brotherly love. Prof. Ansari is the president of the Muslim Association of Nepal.
Conveying the outlook of the Unificationism Community, various remarks were delivered by the Director of Unificationism-Nepal National Training Center, Rev. Kashi Nath Khanal.
Representing the Baha'i Faith, a profound statement was given by Mr. Narendra Pandey, President of the Baha'i Center in Nepal. He expressed his support for this noble project and praised UPF-Nepal for spearheading the cause.
Mr. Naman Upadhaya, President of Jainism Nepal, opened his statement by praising every faith tradition represented at the gathering. He called their presence an act of harmony itself. He also sang a chant with phrases from the diverse religions.
Swami Chandresh recited several passages from the major religious scriptures to illustrate that every religion teaches about the spiritual development of humanity. He emphasized that religious traditions are like schools with different methods but aiming for the same goal.
Closing remarks were offered by Hon Ek Nath Dhakal, Member of Parliament. The program concluded with refreshments.
A special consultation was held after the program to address numerous vital issues related to interfaith harmony in Nepal. The respective faith leaders expressed support and mentioned their concerns to Hon. Dhakal.