| | | | |
| --- | --- | --- | --- |
| | The Words of the McCarthy Family | | |

Holy Wine Ceremony Signifies New Beginning in Washington DC
Kevin McCarthy
September 7, 2003
Washington Family Church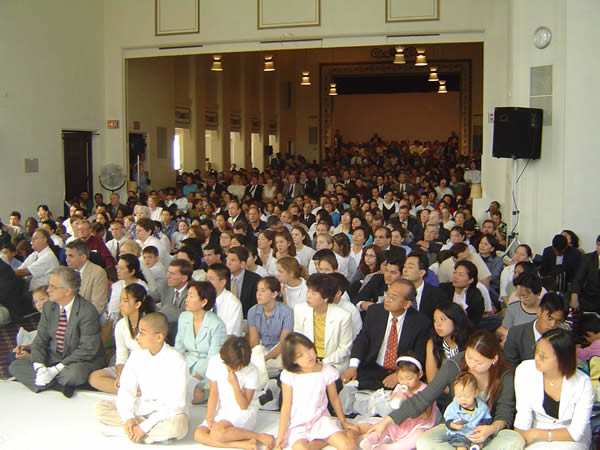 There was a tremendous spiritual convergence of events on September 7th 2003 at Columbia Rd. Church. The mysterious hand of God was clearly moving circumstances so that a full and faithful Washington Family Church could enter the realm of the 4th Israel together. An added element that brought an even deeper spirit was that the event was the first event to be held in our newly redecorated and reconstructed National Welcoming Center at The Washington Family Church.
Blessed central families from all over the metro area began to arrive early in order to get a good seat for the ceremony. The atmosphere was heavenly and uplifting as everyone could deeply feel the same sense as our original blessing day and even more so considering the added significance of entering the 4th Israel.
We were also greatly blessed to have Dr. and Mrs. Chang Shik Yang as our main officiators who began the ceremony as the first family to receive the holy wine. Dr. and Mrs. Yang then administered the holy wine to Rev. and Mrs. Jeong Phyo Hong and to Rev. and Mrs. Kevin McCarthy who then administered the holy wine to elder couples and to the rest of the participants.
For twenty-five long years, our sanctuary, perhaps in a nod of recognition to the past, had maintained the architectural style of the origin owners. During that time, nothing had been touched to bring our own sanctuary more in concert with the era of the Completed Testament Age, the age of attendance. Even to find a place for True Parentís chairs was a daunting task given the tight quarters of the sanctuary layout.
The new CTA styling brought an unprecedented holy feel to our sanctuary. The angels were surely dancing for joy as a bright new era unfolds for the Washington Family Church.


Download entire page and pages related to it in ZIP format


Table of Contents


Copyright Information


Tparents Home