| | | | |
| --- | --- | --- | --- |
| | The Words of the McCarthy Family | | |

Bishop C Phillip Johnson Lectures the Divine Principle to his Congregation
Kevin McCarthy
August 20, 2003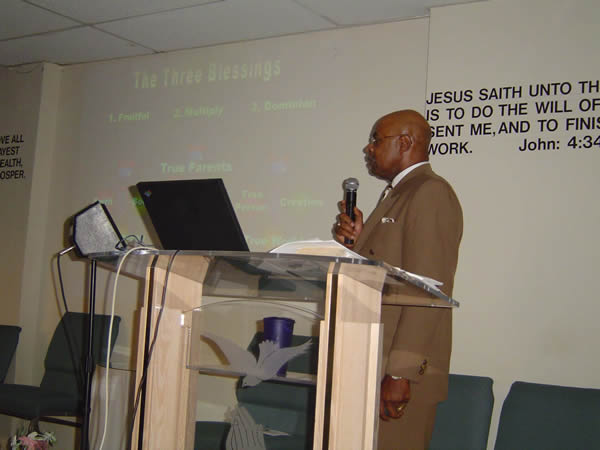 The voice on the other end of the phone was asking me, "I want you to help me prepare a lecture on the Principle of Creation." But this was not a FFWPU lecturer calling me, this was none other than our Region one ACLC co-chairman Bishop C. Phillip Johnson of New Prospect Family Praise and Worship Center in Washington D.C.
Rev. Johnson's Choir
"I want you to show me how to do it on Powerpoint." he said. Bishop Johnson really loves the idea of using modern technology to teach the Word. In fact, Bishop Johnson in addition to his church duties, also oversees a computer learning center housed right next door to his sanctuary.
But this would be his first opportunity to expose his church to the latest in presentation software and also would provide him a chance to share the Divine Principle content more formally with his congregation.
Rev. and Mrs. Johnson - Receiving Flowers in Honor of 35th Wedding Aniversary The only problem was the first presentation in the International, Interracial and Interfaith Revival series was scheduled for Sunday night August 17th, only three days away. I would need a lot of time to get Bishop Johnson acclimated to the new technology. Unfortunately, Bishop Johnson was called out of town for a couple of days and we were unable to even begin the preparation process until Sunday afternoon on the very day of the revival.
During the week, our Japanese missionaries hit the streets around Bishop Johnsonís church and handed out literature and met the people of the community. Everyone was very curious how Bishop Johnson was able to mobilize such an amazing army of volunteers from Japan.
I arrived after our service at Columbia Rd, with laptop and video projector in hand. Honestly speaking, I was trying to lower Rev. Johnsonís expectations. I told him that he might feel uncomfortable with a clicker in hand and he might feel a little constrained by having to stick to the slide agenda and we really needed a whole lot more time to prepare. . .and. . .and. I wasnít so hopeful. Donít get me wrong, Bishop C. Phillip Johnson, Th.D., D.Min.is an accomplished speaker, preacher and educator but, you know that saying about having to teach "new tricks" (Iím sorry Bishop!)
Well, we went over the slides for awhile in the Bishopís office. He listened carefully as I explained the point each slide conveyed. After a brief run-through, I handed him the clicker. It was two hours to show time. So, I got up and told the Bishop that I would leave him and let him go over the material privately so that he could begin to formulate his presentation on "The Ideal of Creation." I quietly left his office and closed the door behind me. A few of his members were gathered outside just like family members waiting for news about the birth of a new baby. "Howís the Bishop doing?" someone asked. "Heís doin fine." I said. . . but really. . .I was thinking that this might be a train wreck.
The service began and soon the spirit was moving with inspired song and prayer. Our Japanese choir sang and brought a rich Holy Spirit. Our church music team members, Kasuaki Ogawa and Jayne Turconi also provided uplifting song. The New Prospect Family Praise and Worship Center Choir featuring Bishop Johnsonís daughter opened the gates of heaven as the featured speaker, Bishop Johnson, came to the pulpit. The table was set, the room was ready, the house was packed. It was go-time.
Bishop Johnson began his presentation on the "Ideal of Creation." I was thinking that probably it would be best if he just kept the title slide up on the screen and just preached his sermon. Not Bishop Johnson. He boldly clicked to slide two. "Hey, he did slide one and two great!" I thought to myself. Then he clicked to slide three and four. "Heís getting on a roll, here." Slide five, six. . .Give and Take action. . .four position foundation, subject and object. HEíS. . .HEíS NAILING EVERY POINT!!!! Now Iím getting excited! Slide seven, eight, nine! Bishop Johnson is a natural born Powerpoint Preacher of the Word!! As my Jewish In-Laws would say, "It was like buttah." I caught the Bishopís eye a couple of times, he was smiling ear to ear as if to say, "how am I doin?" He was doing great!
The congregation was on fire! They loved the visuals and they loved the content! Out of the 12 new guests that came, about five made a commitment to join New Prospect. One young man was deeply convicted and gave his life to Christ at the conclusion of Bishop Johnsonís presentation of "The Ideal of Creation." Another woman said that she was so troubled and under stress when she came to the service. However, after she heard the content about give and take action and could see the motion of the four position foundation, she said she immediately began to feel peace and calm. It was amazing to see the manifestation of power when a Christian leader takes the position to give Godís word.
The next morning, I talked to Bishop Johnson on the phone. He was still sky-high. I asked him what were his thoughts about teaching the Principle. He said that as he was teaching he was filled with a feeling of being called to teach the Principle in this manner. He said he felt completely natural and comfortable.
Bishop Johnson also stressed that teaching Principle to congregations must be done in a way that the congregation can digest and understand. This means more attention to the spirit of the Principle rather than being tied to the letter of the law. Also important was the interjection of more Bible verses to support the Principle point. This comforted the members of his church who may have misunderstood the Principle as being unbiblical or some kind of eastern philosophy. Effective education of the congregation is a key element to insure that minister are able to maintain a strong foundation within their flock.
Also, congratulations to Bishop and Mrs. C. Phillip Johnson on their 35th wedding anniversary.


Download entire page and pages related to it in ZIP format


Table of Contents


Copyright Information


Tparents Home